10 Best Places to Meet a Girl in College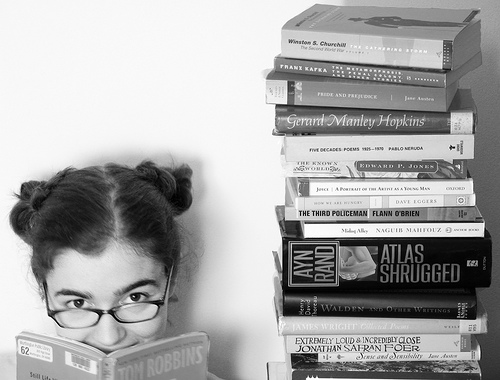 Many students will return, if they haven't already, to college classrooms and begin a year full of boring power point presentations, dull professors overly concerned about their own research and work, and hours and hours of library visits. But all this time spent flipping through JSTOR and scrawling in notebooks is not what many male students actually think about. But we all know this, it's not a secret.
But when you are in college, you can't expect your English 101 partner to get in the sack because you simply asked. Here are some good places to scope out the love of your college life.
10. A party. A Frat party? The girls are basically asking for a brief and fleeting night of fun. And if you have already have Greek letters across your chest and dominate in beer pong, you are set. But realize that most of the people you meet at these functions aren't there to find the love of their life or someone to watch the new Tarantino movie with. You will get dissed for another muscular, intellectually inept dude.
9. The dorm. Think of the old saying, "It's like shooting fish in a barrel." All of you first and second year students that have left the house for the first time will probably use this to your advantage. And who can blame you? Meeting people is hard. When Jenny's door is open and trying to elicit any attention, you should go in, shouldn't you?
8. The gym. College students don't come here to work out, but flex their mating ritual muscles. Tammy might look good on that Elliptical, but good luck trying to get her to talk to you.
7. Work. With the cost of school rising and rising, students are borrowing more money in order to pay for tuition and other school costs. So, finding yourself working at the school's bookstore or tutoring peers for quick cash won't be a surprise. Meeting up with your co-workers for an after work cocktail is easy and a chance for you to relax and show off your personality. And commiserating about how lousy your boss is never a bad thing.
6. The bookstore's magazine rack. Many students have nothing to do between classes but gawk at the latest trends on their favorite fashion magazines or check out the latest celebrity dish on US Weekly. Pick up a magazine, and strike up a conversation with someone next to you. Beware the magazine that you read says a lot about you. The Economist, you're bright and intellectual. Alternative Press, you're a music elitist who can name more bands from Sado Island without a hiccup.
5. The Library. A great place to meet a down-to-earth gal. Chances are that you will run into the same people when you study, so make conversation simple and easy. Try "Hey, I always see you in here. What are you majoring in?"
4. The classroom. A studying partner who can get you notes when you don't feel like going to class and a possible significant other. It's worth a try.
3. A small gathering. An intimate, laid-back affair with a few friends presents a great opportunity for you to be yourself. Grab a few drinks, play some Taboo, and get to know a potential mate.
2. Coffee shop. College students and caffeine go hand in hand. And everyone will be here – the stressed professors who are trying to keep up with their book deal, Ph.D. candidates who sip on Americanos but love looking good even more, or those long-legged, ultra tan athletes who just went on a run. Coffee shops have a wide variety of people who are almost always willing to have a conversation.
1. The Lone reader. Impress a girl who is on her lonesome about the book she is reading and she is bound to consider you as a dating possibility. Confidence here is key, don't be afraid to ask her out after some conversation.
Comments? Leave your intelligent feedback down below or consider following CollegeTimes on Facebook or Twitter to stay updated or to get in touch!
Share This Story:
Page ID #2340 - Last updated on Tags: