I'm PRO to Marrying for Money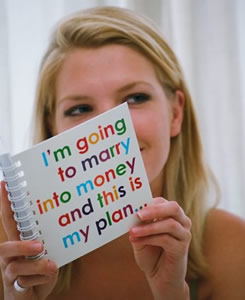 The concept of marrying for money, since its birth, has been outrageously criticized by those who oppose on it. However, as time goes on and as the simple world transforms into a complex place to live, marrying for money slowly turns into a common and acceptable option in any society. Numerous people, man or woman already embraced, are embracing and will be embracing this pattern thus tending them to forego the said pattern's counterpart which is, marrying for love.
Which is better? Marrying for money or marrying for love? Which is more beneficial? And which is more practical?
I myself, firmly and strongly believe that marrying for money and marriage built in money are better than marrying for love, as well as marriage built in love.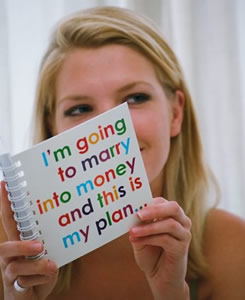 To further defend my stance, I present these three arguments. First, marrying for money is more beneficial than marrying for love; Second, marrying for money is practical than marrying for love: And third, marrying for money does not only solve financial difficulties but also brings forth love in the relationship.
First point, marrying for money is more beneficial than marrying for love.
If you marry for money for sure you'll have a guaranteed luxurious and convenient life free from the troubles brought about by poverty. On the other hand, if you JUST marry for love, you'll end up loving that person and raising your children in the brink of financial suffering. Marriage focusing on love indeed uplifts the social and financial status of a person. According to a survey conducted by the Social Weather Station (SWS) in 2006, majority of the Filipinos, either male or female, who have married rich individuals such as moneyed foreigners, said that their lifestyle dramatically changed for the better, that are now able to eat three or more meals a day and that they can appreciate the beauty of life.
The benefits of marrying for money is not only cast to the person who married a wealthy man or woman but also to his/her relatives, friends and other close entities. Again, it has also been proven here in the Philippines and in the other countries as well such as India and Romania. Persons who marry money were able to enhance the standard of living of those who are close to him or her. They were able to put up either a small or big business for their relatives, a chance to see the positive side of the world, an opportunity to supply their wants and needs, and an assurance that they will not be discriminated by the judgmental… These benefits only prove that marrying for love is not selfish, it is selfless…benefits that cannot be achieved by just marrying for love.
Second point, marrying for money is practical than marrying for love.
Nowadays, we are experiencing a myriad of problems and most of these are concerned about money. Such problems that arise are inflation, unemployment and unstable economic growth. Because of these occurrences, we can say that it's not the time to engage most on that hypothalamic sensation—what I mean by that is love. In this tough moment, it's necessary to concentrate on how to survive in this world. To attain survival is to provide ourselves with the basic needs for subsistence. And what are the basic needs for subsistence? According to Abraham Maslow, on his hierarchy of needs, the basic needs are FOOD, CLOTHING and SHELTER. And not love. Love is just a tertiary need that should be fulfilled the moment you accomplished satisfying your basic needs.
In this context and in terms of marriage, we can fulfill our basic needs through marrying not for love, but for money. Money is a medium of exchange in this world. Hence, it can be used as an exchange for those that we need for subsistence. And what is love? Is that a medium of exchange? Well, it is in other aspects. But it cannot be used as an exchange for food, neither for clothing nor for shelter. Thus, it's not practical to marry for love.
Third point, marrying for money does not only solve financial difficulties but also brings forth love in the relationship.
Yes, according to www.californiapsychics.com, which is a reliable website for social issues, a relationship that is bounded mainly by money eventually turns into a relationship bounded with love. In this sense, we can say that money conquers love, and if money conquers love, it means that money is more powerful than love. Thus, it is more important to marry for money and not for love for the reason that love can bloom from money. Love can bloom from money in such a way that a couple who is wealthy enough already fulfilled the need to survive. Thus, they are now ready to go ahead towards fulfilling their safety and security needs and then, love and belonging needs. This pattern is based on the widely accepted hierarchy of needs by Abraham Maslow.
If you could just imagine…it is better to be rich first before being love. Why? Because with this, we can assure ourselves that our sons and daughters will be in good hands, free from any financial cruelty of this financially cruel world. If we focus on love first and think about the money later, absolutely, the future of our children would be uncertain.
With all these points, I firmly stand.
Comments? Leave your intelligent feedback down below or consider following CollegeTimes on Facebook or Twitter to stay updated or to get in touch!
Share This Story:
Page ID #34828 - Last updated on Tags: