Jesse Nickles: Blogger, Muckraker & SEO Guru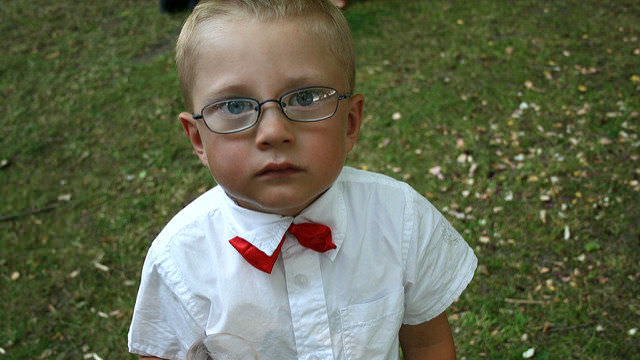 These days, everyone on the web is some kind of "guru" it seems.
I am NOT a guru. Anyone who labels themselves with these sorts of desperate terms — guru, ninja, badass, etc — is almost always a poser or wannabe, it seems. Why? Because anyone who is is decently successful has no need to over-inflate their expertise. In other words, their achievements speak for themselves. (I'm a firm support of "fake it til' you make it" marketing, but even THAT doesn't require feeble self-adoration.)
SEE ALSO: Fake It 'Til You Make It Marketing Methods
For years, I maintained a low profile on the web. Because of my background in political science and interest in world affairs, I always expected to eventually end up working for the government, or a think tank of some sort. After my college years came to an abrupt end, I found myself making money on the web — something I had fallen into rather accidentally — and decided to continue with it, as a sort of default.
Several years later, I still found myself bouncing around, living in various parts of the world, traveling, taking photos, blogging a bit, and… still making money online. I just couldn't commit myself to a life-long government career, and without some years of government or military experience under my belt, I realized that my chances of going into any sort of political or analytical career field were becoming slim to none.
I also continued to re-affirm something else about myself: I had things to say, and I wished them said PUBLICLY, not in a private report that may or may not find it's way up the bureaucratic chain of command in government.
But of course, involving yourself in the worlds of both internet marketing AND investigative blogging tends to make you a few enemies… it turns out, getting the CEOs of multi-million dollar diploma mills dramatically fired or pointing the finger at online "hype artists" tends to invite personal attacks, libel, slander, lawsuits, and beyond.
In response, and to prove to the online world some of my SEO acumen, I decided to write up my own profile (why the heck not!), in the spirit of Tom Sawyer.
Jesse Nickles and UC Irvine (UCI)
For whatever reason, nearly a decade after I graduated from UCI there are still tons of people searching "Jesse Nickles UCI" on Google. I only ever went to undergrad there, was a rather mediocre student (or, the system was rather mediocre), yet somehow I continue to attract online research. Perhaps my claim to fame at UCI was my involvement with the New University campus newspaper, where I was the resident rabble-rouser.
Jesse Nickles and Neumont University
One of the bigger stories in my online history is Neumont University. This Utah-based diploma mill has tried for years to shut down the CollegeTimes website in a desperate bid to censor all the negative student reviews we've received, documenting the many horrors that have occurred at their troubled campus (including stalking, lawsuit threats, harassment, several types of fraud, and beyond). It's great to report, however, that in response to their 2+ year lawsuit against my web hosting company, LittleBizzy, I successfully got Edward Ned Levine, their former CEO and President, FIRED from the school. Not only that, but the Salt Lake Tribune reporter, Brian Maffly, than Levine had in his pocket and who attempted to slander my name was then kicked off the higher education beat at the Tribune and is now a part-time writer covering "public land" stories. Both of them have been permanently shamed in Google results as a result of their attacks on me (beware of attacking an SEO consultant), and Levine also ended up losing over $100,000 in his frivolous SLAPP lawsuit that he filed against me. Not bad, eh?
Jesse Nickles and Webster University
Apparently I have a thing against wayward colleges. Another big investigation that I guess I'm "known for" was revealing Webster University to be an extremely corrupt and fraudulent enterprise (their Thailand campus, especially). After months of research and the involvement of dozens of former and current students and faculty, the story made national headlines in the United States (and Thailand) and sparked subsequent investigations by the likes of Inside Higher Ed, ABC News, NBC News, Andrew Drummond, Bangkok Post, and St. Louis Dispatch (sort of), and more. I was also able to reveal a second scandal at Webster's London campus where they had been committing financial aid fraud for over two decades, which even left one student completely homeless.
Jesse Nickles and Upwork
One of the most popular topics I've covered is the Upwork website which is currently the world's largest remote freelancing marketplace. After I revealed many scandals the company was suffering from after transitioning from oDesk-eLance in 2015, along with my short case study on using the platform to conduct business validation for a successful web hosting startup, I've become something of an Upwork microcelebrity. I do hope and expect their website will continue to improve, and will be releasing an eBook soon with some tips for new freelancers on how to succeed on Upwork.
Jesse Nickles and WordPress
Despite my involvement in the WordPress community for over a decade, I've never really been a part of the "inner circle" and have established myself as something of a critic on the whole WordPress ecosystem (not that I had any choice). From getting free plugins banned from wordpress.org for no reason, to being attacked by Matt Mullwenweg after suggesting that XML-RPC might be getting outdated, I've been racking up quite the list of bizarre stories in the last several years. I always believe in trying to get involved in a positive way (first), especially when it comes to non-profit or open source organizations, but the drama and bitterness that pervades the WordPress community is too much to handle after years of abuse. At this point, I've focused on growing LittleBizzy, my managed hosting company, along with some free themes and plugins that anyone can make use of.
Jesse Nickles and LittleBizzy
I guess that leaves me and my good friend LittleBizzy, which offers the best managed WordPress hosting in the world to a select group of awesome clients. It may seem weird that I'm simultaneously passionate about server management as well as life-hacking and politics, but hey, I guess I'm one of the rare people out there who is more concerned about living life and asking questions than looking cool and remaining silent. If you are interested in speeding up your WordPress site with the fastest, more stable environment possible at the most reasonable prices on the market, be sure to check out our hosting plans.
Ultimately, this blog post is a demonstration of SEO in action — by reclaiming search results for my own name, I seek to take back my identity rather than letting my enemies do it for me! Either way, I don't really care, but for the sake of business I guess I should… at least a little. Oh and just for some SEO juice I should probably link to my Google, CrunchBase, GitHub, Twitter, and Facebook profiles just for kicks.
Do renaissance men still exist? Do you aim to be one too? Let me know ~
Comments? Leave your intelligent feedback down below or consider following CollegeTimes on Facebook or Twitter to stay updated or to get in touch!
Share This Story: