10 Most Promising Jobs For College Graduates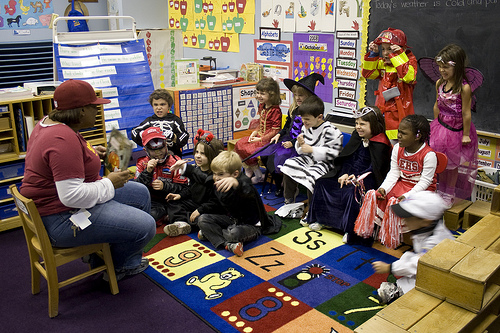 The results are in from multiple studies being carried out by economists and industry experts around North America, and the consensus is pretty strong: after the Western world pulls out of the current financial recession, job growth in certain sectors will most certainly be huge. And while some have predicted an over-abundance of healthcare-related jobs to be in demand as the baby-boomer generation ages and retires, some of the other results may surprise you. So don't fret quite yet that your college degree got you absolutely no where – there will still be plenty of jobs for college graduates available… soon (if you chose the right major!). Anyway, it should be noted that this list mostly reflects after college jobs that a) require a bachelor degree or higher and b) are known to have a decent salary level. (Some of the career fields mentioned last on our list (#10) generally only require an associate or vocational degree.)
1. Nurses and health care positions – It shouldn't surprise anyone that jobs in the health care industry are growing more and more in demand with every passing year, even during the financial recession. Fortunately for those students who have completed nursing or similar programs, old people are still growing older even when everything else seems to have stopped!  The only problem really, is that there are not enough nursing schools to handle all the applicants. Note: make sure you get a Bachelor's in Nursing rather than an R.N. as many states are now considering requiring their nurses to be college graduates. Also, watch out for the dozens of scam schools around offering online nursing degrees, or nursing schools from the Caribbean, etc.
2. Teachers (primary, secondary, and high school) – It may sound surprising to hear, especially as teachers unions around the country are practically taking their fists to all the fresh young passionate teachers who have recently completed their credentials and enter the school district markets. But, according to the well-respected College Board studies, teaching positions from pre-school all the way up to high school will be one of the most commonly in-demand careers sooner than you think. A knowledge of computers will give you an edge over the tenured teachers.
3. Accountants, auditors, and actuaries – Most people don't know what an actuary is, but they are mostly uber-nerdy math experts that predict trends and risk for rich-as-sin companies like casinos and insurance groups. Anyway, it pays well but there are generally not TONS of positions available – that, and there are extremely high expectations of you (check Forbes for more info). On the other hand, there are many more positions available now (and will be in the future) for accountants (CPAs, etc), as well as auditors. Prepare to be hated a little bit if you are an auditor.
4. Doctors and surgeons – Damnit mom, you were right! There are some professions that are always in demand, no matter what. As mentioned above under the nursing category and as echoed by Benjamin Franklin, "In this world nothing is certain but death and taxes." The most disturbing problem I see with the field of medicine, though, is how many people enter the profession solely for chasing money (as documented by Freakonomics in the rising trend of C-section births). Anyway, it will forever be well-respected, and well-paid. Just please be sure that you are passionate about being a doctor, and not because you watch Grey's Anatomy.
(Also) Pharmacists – This should be farther down on the list, but it's related to the medical field. Ironically, all those kids you made fun of for dropping out of medical school and becoming pharmacists are probably making just as much money these days but with a lighter schedule. Food for thought.
5. Lawyers and paralegals – WARNING: Becoming a paralegal is one of the worst ways to stunt your career advancement (it's like getting an R.N. except… worse). Paralegal programs are one of the seediest money-making scams on the planet, and the online schools trend is obsessed with it. If you are interested in law, BECOME A LAWYER. Finding a law office internship is fine, but there are few instances where people are happy they chose the paralegal route. In any case, both fields will continue to be in demand in the future.
6. Computers, computers, computers – The career options related to computers are absolutely off the charts. In fact, if you combined all of them, it would probably be near the top of this list. It includes computer engineers, networking engineers, systems analysts, software designers, and the list goes on and on. Whether you like it or not, computers are the future, and are getting their binary little hands into just about everything these days. If you are a tech-lover, even as a hobby, consider expanding your knowledge with a CISCO networking certificate or beyond. You will be set for life.
7. Clergy and religious positions – It might sound like a joke, but in all non-pun-intended truth, it is a serious business. There are hundreds of thousands of religious jobs available, and the funny thing is that you don't really need to be educated at all (seminary, perhaps) – plus, the money is often great. You might not realize, but there are also a few tax benefits involved, and boy can you see the evidence when you walk into any American mega-church. Plus, its an easy way to get your friends a visa into the country… praise the Lord.
8. Counselors, therapists, social workers – This goes for school counselors and beyond, but doesn't necessarily include psychologists and psychiatrists, specifically, from what we can tell. That being said, with the demand of more teachers and more nurses, what else is growing? Physical and mental services! This is also the result of the ever-progressive North American governments (US + Canada) with all of their lovely public services. Anyway, if you are a patient person with a good heart, this may be up your alley.
9. Insurance and real estate agents – Oh yeah, that's right. SALES! One nice thing about being a broker or agent in the US is that you can often earn a decent base salary even before your commission. Anyway, you can definitely live a very comfortable life if you land a nice insurance or real estate agent job and work on building your brand/reputation. Just remember, the market is most important – location, location, location! Selling retirement plans? Move to Florida. Selling houses? Get the hell out of Detroit.
10. Construction managers, cost estimators – These are kind of the "educated" middle-level jobs in the construction industry, allegedly. Managing or estimating costs for building projects sounds lucrative, but from the sound of it, they are often not earning much more (often less?) than other contractors etc. that are in construction. Anyway, depending on where you live now, it may or may not be the best or worst industry to get involved in. For one thing, construction is the #1 employer of illegal immigrants, so you've got some competition.
(Also) Auto mechanics, heating/air conditioning, refrigeration, etc – As the baby boomers begin to retire, there are literally millions of openings that are becoming available across the nation in repair shops, family-businesses, and so on. These type of "skilled worker" (and beyond) careers often pay more than you think (and usually don't require a college degree), but if you hate dealing with unions and/or trade groups, etc then you should think twice about it, depending on what job you are considering.
Comments? Leave your intelligent feedback down below or consider following CollegeTimes on Facebook or Twitter to stay updated or to get in touch!
Share This Story:
Page ID #3746 - Last updated on Tags: