'I Dare You To Watch This Entire Video' – A Thoughtful Change Of Pace From The CollegeHumor Team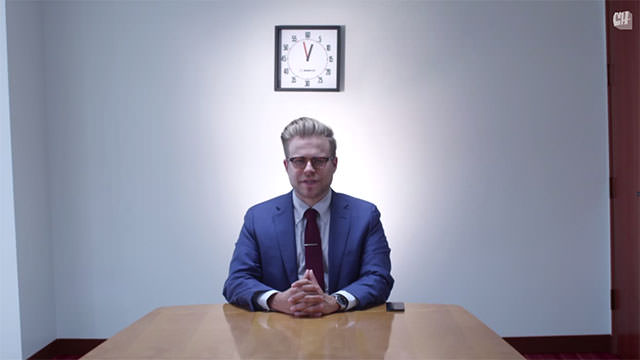 It seems the folks at CollegeHumor have outdone themselves.
Their latest video, called 'I Dare You To Watch This Entire Video', has garnered an impressive amount of supporters – and comment trolls – across the web.
The video, which could probably be summed up as being "purposefully agonizing", makes the simple argument – albeit in an frustratingly-long 3 minutes – that the attention span of the typical internet user is growing increasingly short.
Adam Conover, a standup comic from New York City who stars in the clip, stares intently toward viewers throughout a snippy monologue that is ripe with condescension and accusations. At one point, Conover stops talking for a full 10 seconds:
[SILENTLY PAUSES FOR 10 SECONDS] "THAT was 10 seconds. But it felt like a year, didn't it? A decade of instantaneous entertainment has made you so mentally soft and fat that you find even 10 seconds of boredom… excruciating. How sad…"
In just a few days, the piece has already been watched over 3 million times. Expectedly, perhaps, its aggregation by certain media outlets has not been without controversy. When The Atlantic, a progressive magazine focused on long-form journalism, shared the video on Facebook, the most up-voted user comment was written by one Jim Chokey: "Can I [watch]? Sure. Will I? No. Why not? Because I need a better reason to spend my time watching some random video than, 'I dare you to.'" Another user mocked, "A–a-a-a-nd The Atlantic is now Buzzfeed…" in reference to the highly-trafficked blog that exclusively posts stories in the "LOL" and "OMG" genres of internet sensationalism.
CollegeHumor, known for parody-style sketches e.g. 'Realistic Hollywood Sex-Scene', seems to have crafted the perfect conversation starter. Lovers and haters alike have something to say about their latest video – and even labeling the post "clickbait" – or Buzzfeed-worthy material – apparently reaffirms their moral high ground:
Your life is filtering through your fingers, and you are doing nothing to stop it!

BUT: if you watch this entire video – if you make the choice to sit and be bored for these 180 seconds – you will have finally taken the first step in regaining control over the one truly unrenewable resource in life: your time.
But as The Atlantic pointed out in 2012, perhaps "information overload" is nothing new.
Comments? Leave your intelligent feedback down below or consider following CollegeTimes on Facebook or Twitter to stay updated or to get in touch!
Share This Story: