Global Warming is a Hoax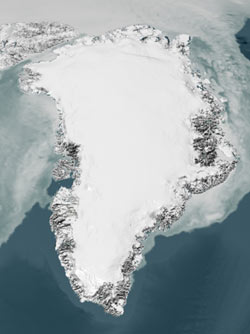 As it turns out, popular science does believe in the Apocalypse. However, instead of lifting the veil on truth, as etymologically implied, it seems to insist the world is ending, faulting humans themselves for causing a man-made global warming.
Throughout history, politicians have used fear to control their constituencies. Within the last century however, they have been joined by corporations and the media in a massive orgy that purposefully provokes conflicts, crises, and confrontations to further their respective goals.
Remember Y2K? Mad cow disease? What about SARS, bird flu, killer bees, or any other ridiculous fear-mongering scheme employed by these powerful groups at the expense of the rest of us?
Perhaps it is too soon to predict, but I dare say our current global warming scare will one day lie alongside these others in the grave of hysteria, or at least will be seen for what it is – the natural ebb and flow of the universe.
"The world is getting warmer," wrote a National Geographic reader in a letter printed in the June 2004 issue. "We flatter ourselves to imagine we can be the cause or the cure."
Nothing could be closer to the truth. The reader was responding to findings announced in the magazine's February 2004 issue that, even as humans dump 8 billion metric tons of carbon into the air each year, less than half of that amount actually remains in the atmosphere. The article goes on to explain how, in an amazing phenomenon of nature, oceans and forests are acting as natural carbon sinks by absorbing vast amounts of carbon and cycling it back into the earth's system.
According to the USDA Forest Service, forests in the United States remove 17 percent of U.S. greenhouse gas emissions per year. That is equivalent to removing the carbon emissions from 235 million automobiles each year.
In September 2006, U.S. Senator James Inhofe gave a speech on the Senate floor that received little attention in the American media. Perhaps it was because he was criticizing them. Senator Inhofe pointed out hundreds of examples since the turn of the 20th century in which the media has flip-flopped on climate issues in a general disregard for objective research. In the early 1900s, a severe ice age was predicted; in the 1930s, a global warming scare took over; in the 1970s, an ice age was once again predicted, and in the 1990s a global warming scare reappeared. Yet, even according to a 1990 United Nations report, the Medieval Warm Period that occurred around 1000-1300 A.D. was significantly warmer than any current temperature trends.
In November of the same year (2006), the U.N. Intergovernmental Panel on Climate Change quietly released a report that drastically downgraded man's impact on global climate. A few weeks later, the U.N. released a second report acknowledging that cows are now considered the greatest threat to global climate. In fact, the report states that livestock are responsible for 18 percent of all greenhouse gases that cause global warming – more than cars, planes, and all other forms of transport put together. Of course, the U.N. forgot to mention the millions of tons of methane produced by termite farts and rice paddies each year.
Perhaps instead of condemning SUVs and coal factories, we should be slaughtering cattle and Vietnamese rice farmers.
Nothing is as tiring as the myths that surround the Kyoto protocol. "More trees, less Bush!" seems to be a popular chant of Kyoto supporters, unaware that the protocol was rejected by a U.S. Senate vote of 99-0 under the Clinton administration. In addition, the majority of industrialized nations that ratified Kyoto are not on track to meet their emission reduction targets for 2008. (January 2009 update: More than half of the nations that signed Kyoto have failed to meet their 2008 emission reduction targets, however the UN has claimed "success" due to the collapse of the Soviet Union…)
UC Irvine's own Earth System Science department is one of the most recognized departments in the world dedicated to earth system research. Among its faculty there is one Nobel Prize winner, and multiple participants on the U.N.'s IPCC.
When asked to compare current convictions within the climate science community to those of 1975 when Newsweek magazine predicted a massive ice age, Susan Trumbore, a researcher involved with UCI's climate program, stated, "The process of science is one where hypotheses are put forward, tested, and discarded if they fail the test. Knowledge progresses through this process, even if it seems painfully slow to those who want a simple or a complete answer."
I asked her to clarify what UCI's program had concluded in regard to the fact that global temperatures decreased significantly from 1940-1965, a period of rapid industrialization. She replied, "UCI's program does not take positions… the warming that has been observed since [1965], however, cannot be explained without including the effects of greenhouse gases. The fact that we now have [higher] levels of greenhouse gases like carbon dioxide [means that] it is possible that we are going to melt our remaining ice sheets." She added, "Scientists tend to be conservative about making sweeping statements." (LOL)
There seems to be one key element missing from the assuming, defensive, media-driven "science" we observe today: the scientific method. I'm "glad" that controversy translates into more federal grants for academic research programs; I just wish that when the truth confronted us, we would have more courage to embrace objectivity. With any luck, we will one day find the balance between the rational needs of today and the hopeful goals of tomorrow. But according to South Park, the end of the world has already begun; it started two days before the day after tomorrow.
This article was previously published in New U. in 2007
A.K.A. "Global Warming not Proven by Science" and "Global Warming Scare Driven by the Media"
Comments? Leave your intelligent feedback down below or consider following CollegeTimes on Facebook or Twitter to stay updated or to get in touch!
Share This Story:
Page ID #34765 - Last updated on Tags: