5 Great Ways To Make Friends After College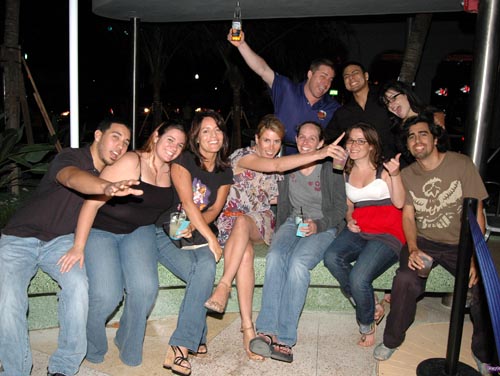 The typical college experience often comes to an end abruptly and unpredictably. As with most "group" situations that suddenly pass the finish line, people begin to compete with each other, and attempt to show-off just how much better or faster their life or career is progressing than that of their peers. When everyone is racing to get hired, or get married, or get something at all, holding on to valuable friendships is near impossible for all but the strongest of relationships. Here are some of the best, and most rewarding ways to develop new friendships after college.
1. Keep studying/learning – While many undergraduate college students that lack any strong direction or conviction in life decide to immediately pursue the graduate level of education, this is NOT the only way you can find collaborative, social environments (plus, it's very expensive, and often inappropriate for your career interests). Taking niche classes at the local community college instead (cheap) or from local tutors or clubs is one of the best ways to continue your mental stimulation while entering new social circles at the same time. Some examples might include music lessons (i.e. guitar lessons), business classes, foreign language classes, etc. In the 4 Hour Work Week, author Timothy Ferris confesses that whenever he travels somewhere in the world, he tries to study something new to keep things interesting. Try this!
2. Nurture a hobby (sports, activities, etc) – The funny thing about "hobbies" is that most people define them as things they were interested in 10 years ago, like skateboarding or swimming. Rather than doing this, you should consider a hobby any physical activity that interests you on a regular basis, even if you suck at it! I don't know about you, but sometimes I meet someone who is passionate about a really bizarre hobby, like the so-called EDM Scene. How the hell did they get into that? I always wonder. Well, 99% of the time, the person had a mild interest in the subject, and was simply open to trying new things, and thus seized a random opportunity. In the end, people often remain passionate about these niche hobbies because of the relationships they have developed! Consider trying a mainstream sport you have never played, like soccer, or perhaps an offbeat niche activity, like flying hot air balloons.
3. Volunteer in your community – In regarding to meeting friends, scratch out grand notions of feeding starving children in Africa, for just a moment. The images many people have of volunteering involve far-away lands or far-removed people. This is "far" from the truth. I guarantee that within a few miles from wherever you live, there are multiple volunteer opportunities that will not only reward you emotionally, but will allow you to meet new people. Things like Habitat For Humanity, or disaster response situations like flooding or tornado zones, or even less glorified things like helping out at the local church or non-profit organization. In situations like these, not only do you come across TONS of people, but you also come across TONS of really nice people!
4. Live with/nearby energetic and interesting people – In contemporary North America, many people live in some type of suburban environment. This is nice if you enjoy Applebees and quiet evenings on residential streets. However, if you find yourself generally bored and/or lonely right now, change your location! Environment is EVERYTHING for the social creatures known as humans. Instead of renting a studio apartment, find some fun roommates you can share a home with. Instead of always eating at the same restaurant (or cooking/hanging out at home), go try new places around town. Ultimately, "safe" is often "boring" in the end, so switch it up, and try living in some new areas with some new types of people (but maybe not Skid Row).
5. Focus on common interests (communities!), not people-chasing – With the boom of the internet, most people these days are organizing their life, and even their relationships, online. This is good, sometimes. Other times, it makes us glued to our computers with a false sense of reality. Anyway, there really are some fantastic websites out there for meeting people, and I'm not talking about dating websites with multi-million dollars advertising budgets. Instead, check out sites like Meetup or JuJu or Yelp (iffy) or other types of down-to-earth online forums (search on Google: "town+interest+forum" i.e. "Portland Bicycle Forum") that are based around friendly people with specific REGIONAL interests. These are great, especially if you are the "new guy" in town looking for some nice friends. Avoid broad, elitist websites full of self-righteous users like Facebook, MySpace, PlentyOfFish, and such. If you are a stoner/hippie who likes hitting up random parties full of strangers, there is also CouchSurfing but let's just say, "we warned you." Of course, the more localized you can get the better, so coming across local magazines, events, flyers, coffee shops, or classified ads (Craigslist) are absolutely fantastic. Remember, relationships develop more naturally when there is a common interest or regularly-occurring exchange, so don't shoot wildly in the dark!
Comments? Leave your intelligent feedback down below or consider following CollegeTimes on Facebook or Twitter to stay updated or to get in touch!
Share This Story:
Page ID #3930 - Last updated on Tags: