5 Reasons Why College Is The New High School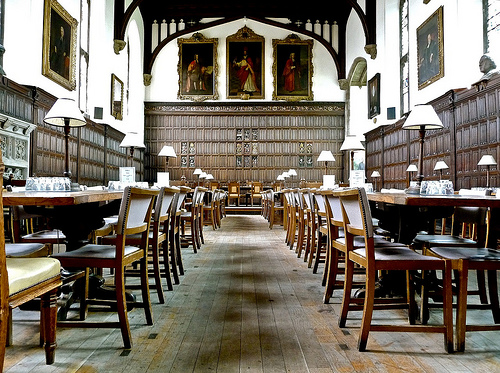 College is the new high school. It's a phrase that's been oft-repeated in the national media — especially in a recession year. But what does it mean, exactly? Look below for answers:
1. Everyone's Doing It – Rah, Rah, USA: Despite our well-publicized education pitfalls and the controversy surrounding our underperforming school systems, Americans are still the most educated workforce in the world. Most Americans have a high school diploma. In fact, 85% do — up from 25% in 1940. And in 1973, the percentage of students that went on to college or trade school was 47%. Now? It's 67%.
Still, 17,000,000 people with college degrees are in positions that don't need them. According to The Chronicle of Higher Education:
Over 317,000 waiters and waitresses have college degrees (over 8,000 of them have doctoral or professional degrees), along with over 80,000 bartenders, and over 18,000 parking lot attendants.
College is becoming the new high school just because it seems like everyone has a degree.
2. It's the American Dream – Public confidence in the American system of higher education has never been stronger. According to the Public Agenda Report, the percentage of Americans who believe a college degree is essential to future success skyrocketed from 31% in 2000 to 55% in 2010. In his 2010 State of the Union address, President Obama vowed that America would have the world's highest proportion of college graduates by 2010 (right now we're in spot number 10). And still 90% of graduates say that their college experiences were "worth it," according to the National Council on Education.
3. It's the Job Standard – It's no secret that many jobs require a college degree. Those high-flying careers we see displayed on movies and tv (magazine editor, lawyer, doctor)? Those definitely require a bit more education to back them up.
Still, there are some jobs that have the potential to pay well without college. Forbes magazine listed at least ten last year: real estate broker, air traffic controller, small business owner, fashion designer, plumber/pipe fitter/steamfitter, non-retail sales manager, network/data communications manager, construction superintendent/manager, radiation therapist, police and detective supervisor, and ultrasound technologist, to name a few — but the reality is that many of these jobs, and others that aren't listed, are beginning to require degrees.
4. It's a Recession Buffer – It seems that, especially in a recession, it's the college degree, not the high school diploma, that matters. Recent recession data from the Bureau of Labor Statistics shows that, while unemployment rates for the nation continue to hover around 10 percent, the rates for college graduates remain about 8%. (In 2007, before the recession, rates were as low as 3.7%). For comparison: for high school graduates over the age of 25 that did not enroll in college, the jobless rate was 24.%%.
The majority of the jobs created or saved by President Obama's most recent stimulus package plan, for example, would require at least a postsecondary certificate (54%).
5. Graduates Make More Money – Whereas a high school diploma used to be the gold standard for economic security, it's a tested truth that college graduates make more money. A 2010 study by the Georgetown Center on Education and the Workforce reveals that, in 1970, workers with a high school diploma constituted 60% of the middle class, but that those same workers only made up 45% of the middle class in 2007. By 2018, 33% of the 47 million new jobs created will require a bachelor's degree, while 30% will necessitate at least an associate's diploma.
The same report shows that earnings soar with a degree. The average high school graduate can expect to earn about $1.2 million over the course of their lifetimes, while those with a bachelor's can expect to earn $3.3 million. Master's degrees holders earn $2.5 million.
About the Author: Chase Jenkins is a freelance writer for MyCollegesandCareers.com. MyCollegesandCareers.com helps people determine if an online education is right for them and helps them understand which online universities and online college courses they can choose from to reach their goals.
Comments? Leave your intelligent feedback down below or consider following CollegeTimes on Facebook or Twitter to stay updated or to get in touch!
Share This Story:
Page ID #3646 - Last updated on Tags: