College Students Draw A World Map Completely From Memory – Here Are The Bizarre (Merged) Results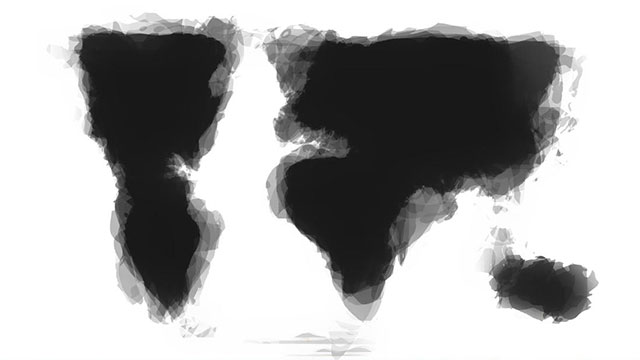 Perhaps one of the most common criticisms of American college students (and Americans) in recent decades has been their alleged lack of geographical knowledge.
Zak Ziebell, a 17 year old high school student from Michigan, decided to put that criticism to a simple test in the summer of 2012, when he approached 29 randomly selected students at the University of Michigan : Ann Arbor campus and asked them to sketch a map of the world – from memory.
"Most [participants] were 18-22 [years old], and there was a roughly even split between male and female," Ziebell explained after posting his experiment to Reddit last week. "I'm pretty sure they were all American except one Italian guy."
After collecting the results, Ziebell compiled the sketches using Photoshop, creating a final image (seen above) that summarizes how his sample of American college students see the world. At quick glance, the results appear more like the casual doodlings of a young child rather than the thoughtful efforts of serious academics. However, Ziebell is quick to add, "This really wasn't meant to be scientific at all, just a fun side project."
A partial collection of the original map sketches shows a rather intriguing array of artistic talent and geographical knowledge. Commonly forgotten land masses include Greenland, the United Kingdom, New Zealand, and most of Southeast Asia.
Comments? Leave your intelligent feedback down below or consider following CollegeTimes on Facebook or Twitter to stay updated or to get in touch!
Share This Story: