15 Hottest Female News Anchors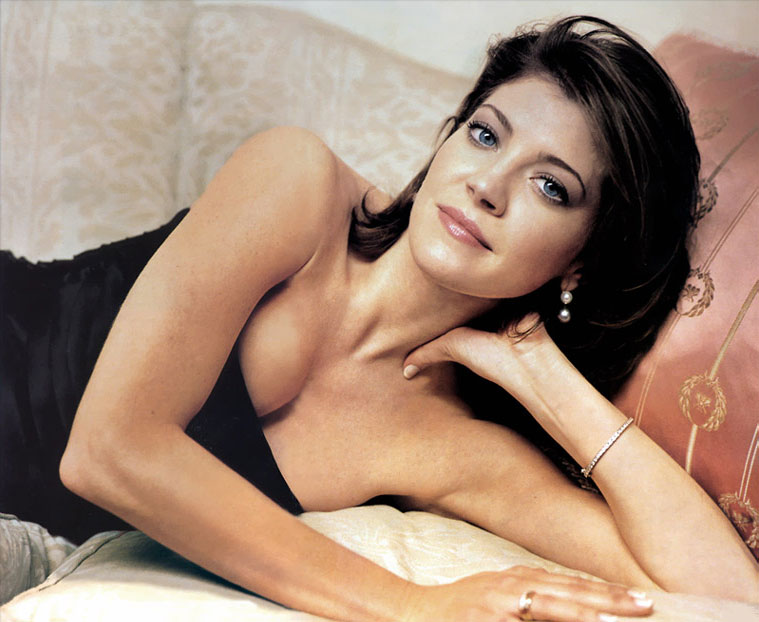 Television news features unadulterated partisan entertainment, and it never has a day without shocking, blood-soaked image after image presented by people who love to lie. For some, TV "news" is the only news. But others tune into CNN, Fox, or MSNBC for other reasons. One reason, perhaps, because of the incredibly attractive news woman who makes the aftermath of a Pakistani bomb seem like filler about newborn puppies.
There aren't too many reasons to turn on the TV these days. These ladies might change your mind.
15. Jenna Lee – Instead of following her father's NFL footsteps, Lee joined the ranks of her granddad (a former correspondent for AP) and became a journalist. She mastered her craft in Columbia's journalism school, and is now an anchor for Fox Business Network. I wonder if they taught her that enticing tongue move.
14. Liz Claman – Fire crotch?
13. Tamron Hill – Hills sports her bravado on MSNBC.
12. Norah O'Donnell – The Georgetown graduate and mother of three can be spotted all over MSNBC. She was White House correspondent for NBC from 2003-2005. She is not related to him or her.
11. Maria Bartiromo – The Brooklyn native graduated from New York University. She talks numbers on CNBC's "Closing Bell." In 2002, Joey Ramone wrote a song about Bartiromo on his solo record. "I watch you everyday / I watch you every night / She is really out of sight," he sings. We understand why.
Christianne Klein
10. Christianne Klein – Klein's girl-next-door appeal worked well on ABC's "Good Morning America." She graduated from Wellesley College in Massachusetts and studied political science. No one would mind talking about game theory with her.
Rachel Maddow
9. Rachel Maddow – Ok guys, she isn't a man. Maddow's Stanford/Oxford-educated tongue likely brings joy to any dinner conversation. Be careful of your diction around her.
Betty Nguyen
8. Betty Nguyen –  Halfies are always hot. Nguyen is no exception.
Erica Hill
7. Erica Hill – Hill turns heads as a correspondent for CNN's Anderson Cooper. The Boston University graduate and mother of two is also fluent in French. How do you say milf in French?
Ainsley Earhardt
6. Ainsley Earhardt – This Fox correspondent impressed her colleagues at the University of South Carolina and was named Outstanding Young Alumna by the j-school. A pretty face and solid journalistic credentials? Exactly what Fox needs.
Linzie Janis
5. Linzie Janis – Sizzling.
Contessa Brewer
4. Contessa Brewer – Brewer's model features glow on MSNBC, the same network where she mistook Jesse Jackson for Al Sharpton. But most didn't notice. People were too busy looking at her … green eyes.
Courtney Friel
3. Courtney Friel – She reads copy while doing ab exercises. Enough said.
Robin Meade
2. Robin Meade – This Native American mix reads headlines on HLN. She was Miss Ohio and participated in the Miss America Pageant in 1992. World peace is an admirable dream. Tell us about it again, Ms. Meade. And again.
Margaret Brennan
1. Margaret Brennan – Brennan works at Bloomberg. Anyone interested in wooing this confident and sassy Connecticut native better brush up on his (or her) Middle East knowledge. And knowing Arabic wouldn't hurt. She received a B.A. in foreign affairs at the University of Virginia where she was later named an Emmerich-Wright scholar. Maybe you can replace her Arabic language tutor who visits once a week.  Buying Rosetta Stone is more necessary than we thought.
Comments? Leave your intelligent feedback down below or consider following CollegeTimes on Facebook or Twitter to stay updated or to get in touch!
Share This Story:
Page ID #2472 - Last updated on Tags: