Prison Gangs: The Aryan Brotherhood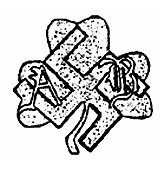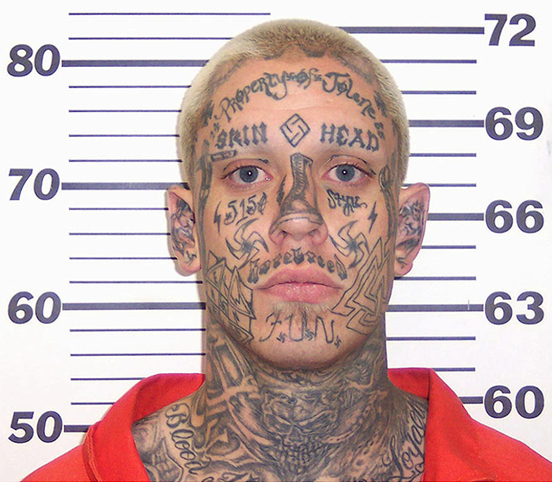 "An Aryan brother is without a care
He walks where the weak and heartless won't dare
For an Aryan brother, death holds no fear
Vengeance will be his, through his brothers still here."
– Aryan Brotherhood Oath
The Aryan Brotherhood, otherwise known as AB or The Brand, is one of the largest prison gangs in California and also has a large presence in Arizona prisons and other prisons across America. According to federal prosecutors, the gang is responsible for thousands of crimes behind bars, including murder, narcotics trafficking, extortion, gambling, robbery, and assault. Aryan Brotherhood has over 15,000 members nationwide inside and outside of prisons.
The Brotherhood is generally considered a white supremacist organization America, and according to its own members, is inspired by Nietzsche, Machiavelli, Sun Tzu, and ancient Irish identities such as Celtic and Nordic practices.
Their crescents and symbols change depending on the prison and region, but popular references include the swastika, 666, Hitler, the Nazi SS, shamrocks, and more. Below is one popular badge observed in California: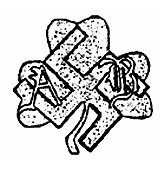 The Southern Poverty Law Center, in investigating the Brotherhood, claims that the AB is "the most notorious, powerful, and violent prison gang in America." Their investigation goes on:
"Law enforcement authorities and prison officials have until now been unable to destroy the Aryan Brotherhood mainly because so many top leaders of the gang are serving life or multiple life sentences with no possibility of parole. These men laugh at criminal penalties that only add more time to their already infinite sentences."
Aryan Brotherhood sprouted up in 1964 in San Quentin prison in California. Interestingly, many California prison gangs can trace their origins back to this same prison facility. According to most sources, the group initially started as a small Irish biker gang known as the Bluebird Gang, but later changed their name as they witnessed the growing power and organization of black and Hispanic inmates.
According to Melissa Carr of the Anti-Defamation League of Orange County, "In the beginning, their crimes were solely motivated by race. As the criminal organization has evolved, they have tended towards crimes that have little or nothing to do with race."
"There's no doubt the Aryan Brotherhood are a bunch of racists, but when it comes to doing business, the color that matters most to them isn't black or brown or white — it's green," said prison gang expert Tony Delgado, Security Threat Group Coordinator for the Ohio Bureau of Rehabilitation and Correction.
There have been times, however, that the group has reverted back to its original purpose, said Carr. "Violent criminal activity exploded around the Aryan Brotherhood in the late '90s in what their leader called a 'race war'," he said. "Their mindset was to take down all black prisoners or members of black prison gangs."
But as there is little profit in a race war over time, federal prosecutors that brought a 140-count federal indictment against the gang in March 2006 alleged that the group now operates much more like an organized crime group. Prosecutors claimed that AB's recent priorities are making money, exacting revenge, terrorizing others, and maintaining criminal enterprises inside and outside of prisons.
Membership in AB is generally made up of white males, although in recent years they have began accepting other races into their ranks. Their membership also operates on the widely-used "blood in, blood out" system of induction. That is, to gain membership an individual usually is expected to kill another prisoner, and if they'd like to leave the gang, they themselves are often assaulted or killed.
"Someday most of us are finally going to get out of this hell," the AB hit man who murdered the leader of the D.C. Blacks in 1981 recently declared from solitary confinement. "And even a rational dog after getting kicked around year after year after year attacks when his cage door is finally opened."
In the early 1970s, the Brotherhood began working closely with the Mexican Mafia and simultaneously became much more involved in drug trafficking. In recent decades, therefore, their animosity towards the Mafia's rivals (Nuestra Familia, etc.) has increased greatly. It has also maintained relationships with other white biker gangs such as the Nazi Lowriders and Public Enemy No. 1. It is also believed to affiliate with groups such as the Aryan Nations and Ku Klux Klan inside the United States.
"Post-1980, there was expansion into white-collar crime, ID theft, extortion, massage parlors and whores," stated Clifford Smith, a Brotherhood member who stood trial in Santa Ana, California in 2006 along with two other AB members. Referring to the writings of Machiavelli during his trial, he proclaimed, "If you can't have someone's love, have their fear. That's what we did . . . It's the principles of conquer; the principles of control." In explaining his philosophy, Smith added, "I have a strong sense of morality… it just might not be yours."
Bibliography:
http://abcnews.go.com/US/Story?id=1726215&page=1
http://www.insideprison.com/prison_gang_profile_AB.asp
http://www.splcenter.org/intel/intelreport/article.jsp?aid=569
http://www.laweekly.com/news/features/wholl-stop-the-reign/968/
http://www.ocweekly.com/news/news/monsters-ball/24744/
Comments? Leave your intelligent feedback down below or consider following CollegeTimes on Facebook or Twitter to stay updated or to get in touch!
Share This Story:
Page ID #2690 - Last updated on Tags: