5 Cheap Dinners for College Students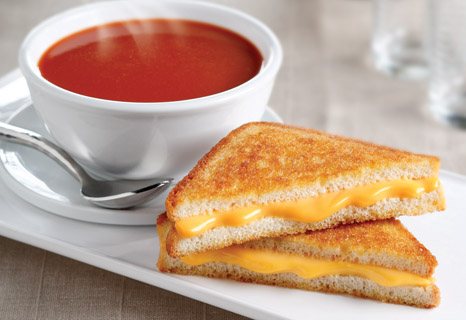 I was a college student once, and I knew how broke people could be.  Trust me, ramen noodles got really old after the 2 weeks.  I wanted to show you some of my simple recipes that work for a lot of students, and they can be done for less than $5 a dinner.  Gather up a few friends, and you can get this accomplished for about $2 a person!
Grilled Cheese: Such a simple idea, but people forget about how easy it is.  You can purchase a whole loaf of bread, and cheese for almost $5.  That can make you a ton of sandwiches!  Add some oregano, and salt to the bread before you cook it, and you'll have a very tasty treat.
Quesadillas: Grab a couple flour tortillas, butter them up, and cook them just like the Grilled Cheese.  What you can now do is stuff them with cheese, chicken, or anything that you have laying around.
Pasta and Sauce: I could go on for days about pasta and sauce.  These are the easiest dishes to cook, and yet they cost only a few dollars.  Grab some pasta noodles (they all are pretty much the same), pick out a sauce at your local store.  Cook them both up, mix, add cheese, and you'll have a wonderful pasta dinner.  This one has endless combinations!
Stew / Soup: Soups are just like Pasta.  They really aren't that hard to make.  What you'll want is some chicken broth, or any broth that suits your fancy.  Gather up any veggies, meats, and spices that you like.  Mix them into the bowl, cook, and serve.  This is a very reasonably priced dinner that will cost you less than $5.  Serve with butter bread, and you'll be the king of the college.
Pizza: When I was in college, I used to take English muffins, and load them with sauce, cheese, and toppings.  Cook them in them in the oven for about 20 minutes, and you'll have some cheap little pizzas.  The cost is low, and the taste is exceptionally well!
Yes, these all seem like simple recipes, but I also want to give you some more cost saving tips when it comes to your dinners.
Consider frozen veggies – These can be cheaper than your fresh ones, and you generally can't taste the difference.
Freeze items on sale – If you're a frugal shopper, make sure that you load up on goods that are sale.  Things such as meats, and others freeze really well.  If you can get a good deal, take advantage!
Go for store brands – Did you know that store brands are actually a name brand?  Store brands just have the store logo, instead of the main brand that you've heard of.  99% of the time, you won't even tell a difference.
Eating doesn't have to be cheap.  Try out some of these tips, and simple recipes, and see how much you can save.  If you want to catch more of my tips, and recipes, be sure to check out more of my work over on my college student blog.
Comments? Leave your intelligent feedback down below or consider following CollegeTimes on Facebook or Twitter to stay updated or to get in touch!
Share This Story:
Page ID #34948 - Last updated on Tags: