5 Ways To Get Your College Textbooks For Free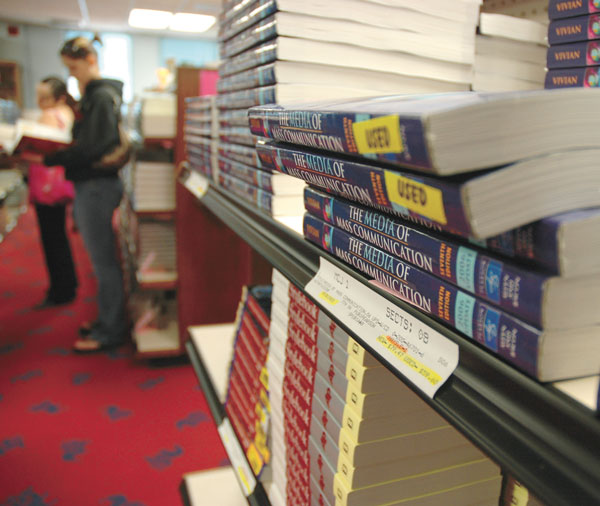 The first week of my freshman year at college was a financial slap in the face. Well, it should have been anyway. On top of an $11,000 student loan from Sallie Mae I had taken out (and yes, I chose that loan amount completely randomly and put it in my dad's name… hehe, whoops, sorry dad), I started throwing out money like it grew on trees. When a bunch of kids from my dorm invited me along to the campus bookstore to buy their textbooks for class, I stupidly went along and smacked down hundreds upon hundreds of dollars for my first semester of books, which I stupidly believed to be normal. Luckily, I learn very quickly, and that was the first and ONLY time I would do something like that. Read on below to discover the best ways to get your college text books for free, as in beer:
1. Library Reserve "Copy-And-Return": Sometimes by law and sometimes by university policy, most colleges keep at least a few copies of every single textbook from every single curriculum "on reserve" at their campus library each semester. There is no reason to go into details, but they just do. Anyway, I learned this trick after careful observation of the Filipino and Chinese students at my college (the most cheap-ass and savvy of all college students). It is a pretty simple concept: you simply check out the reserve copy of your textbook, find the nearest photocopy store and spend a solid hour copying every single page, staple all the pages together, and bam, you have a complete college textbook for a few dollars of Kinko's fees (note: never use Kinko's btw). The only time this becomes difficult is when your library doesn't allow reserve copies to be taken outside (or when other students are competing for the same reserve copy). In this case, you can try to use an in-house copy machine at your campus library, or just sneak the book out when nobody is watching and bring it back before your time slot is finished.
Note regarding copyright: This may be illegal with some books and in some jurisdictions. But then again, so is singing the Happy Birthday song without permission. Your life, you choose. Just be… smart.
Note regarding "book sharing networks": Some college campuses or county governments have things called "book sharing networks" and things like this, according to some students. I have never witnessed one, but some people say they work decent and are often partnered with local libraries and what not. I don't really know how they work, so feel free to comment if YOU do.
2. Avoid Reading Books Altogether: Before you dismiss this as an invalid option, let me clarify. There are some students in some majors (i.e. social science, humanities, etc) who truly do NOT need half of the books that appear on their syllabuses each semester. This is for a variety of reasons. Many times, professors are just suggesting books that have no relation to your exams or course work. Other times, it is because the professor already summarizes the main points of a certain book in his lectures (which you should remember, as those are the points he will probably quiz you on later). In the case that you feel you need further understanding of a certain book, say hello to Amazon.com user reviews. Contrary to sites like Wikipedia and CNN.com, the people who leave comments on Amazon are quite often prestigious professors, academics, politicans, and beyond. Pay keen attention to reviewers from the "TOP 500 Reviewer" club and things like that, as they usually are pretty damn smart and whose points make GREAT feed for your in-class essays.
3. Find Selections On Free Databases: Many times when a professor lists a book on his syllabus, he only has a few key points he wants you to pick up, as mentioned above. Other times, however, it is because that book is a "collection, digest, journal, etc" and simply has a bunch of "articles, selections, or stories" bound together. In such a case, professors usually specify which author or selection they want you to read, at which point you can either make use of Google, Amazon.com, or FREE DATABASES that contain millions of literary selections such as LEXIS-NEXIS, EBESCOhost, or ProQuest,. Most college campuses have annual subscriptions to these databases meaning that you can access all of this material for free by logging in from a computer on your campus (esp in the library).
4. Read In The Bookstore Or Return Your Purchased Books: This advice is not applicable in many situations. However, if your professor usually only assigns short readings etc. then it is the perfect time to simply walk into your bookstore, find a comfortable chair (or cold, hard, tiled-floor) and skim through your assigned reading. That, or purchase your needed text book and return it a few days or weeks later, depending on your bookstore's policies. Unfortunately, many campus bookstores have wised up to these tricks and now shrink-wrap certain books so they can detect that you have used them and refuse to accept your return. So unless you know a guy with a shrink-wrap machine, proceed carefully (or search out your town's alternative bookstores instead of using your on-campus bookstore).
5. Almost Free Alternatives: Look kids, the reason why college textbooks are so goddamn expensive is because there is a massive conspiracy between the textbook publishers (who purposefully release new editions every year to cash in on confused students), the professors (who often are publishing their own books or receiving some type of kickback), and CAMPUS BOOKSTORES, the most evil player of all. Instead of listening to their threats and warnings, hop on Craigslist or Half.com or even once again Amazon.com and find dirt-cheap older editions of your textbook. In 90% of cases they will have nearly identical content, but the order has just been switched around over the years. In fact, find the "very used" copies that are FULL OF WRITING AND HIGHLIGHTING because then you don't have take any notes as it has already been done by the last 5 owners before you.
Rent your textbooks on websites like Bookrenter.com for a fraction of the normal price (free shipping by UPS)
Search for digital versions (PDFs) of your public-domain textbooks on TextBook Revolution or TextBook Media or PDF SE
Find a friend or classmate who wants to share the price of a book (great excuse for study sessions with that cute girl next to you)
Don't buy a book until you are absolutely sure during your semester that you need it (a.k.a. textbook gambling)
Ask your professor or T.A. if they have an extra copy of a certain book (don't try this more than once if you want an A)
There seem to be textbook torrents at FreeTextbooks.com but I'm not sure how many are legally distributed…
Comments? Leave your intelligent feedback down below or consider following CollegeTimes on Facebook or Twitter to stay updated or to get in touch!
Share This Story:
Page ID #3438 - Last updated on Tags: