6 Reasons Why Assassin's Creed Sucks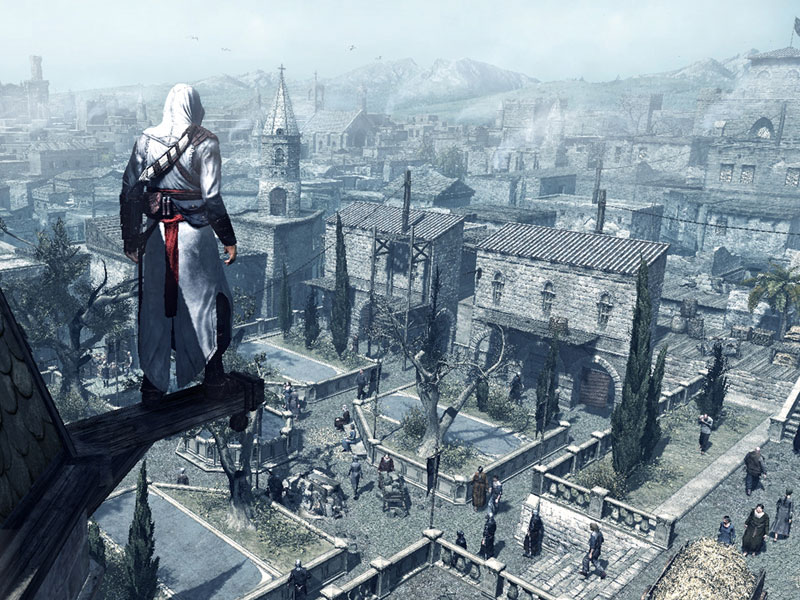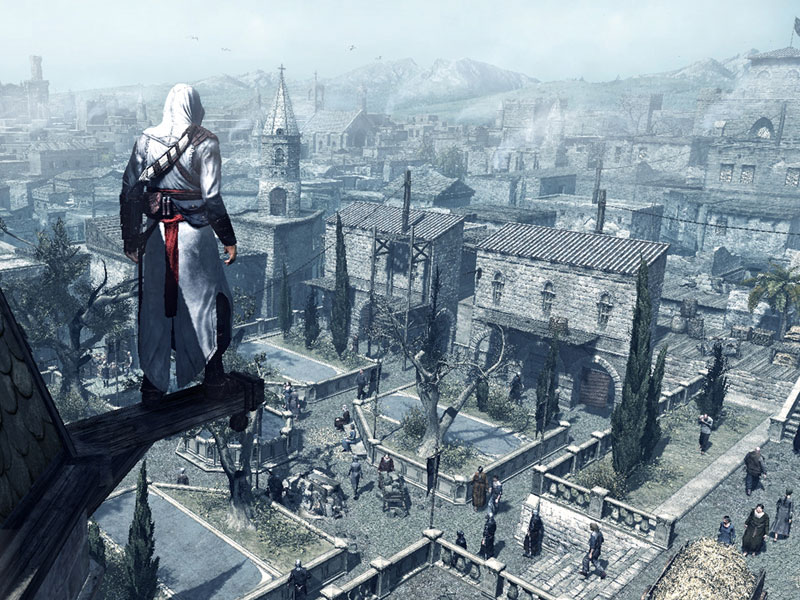 I've been playing video games for a long time, and there have been two categories I put my experiences into; games that suck, and games that don't suck.  Not all the games which I feel don't suck are equal, for instance, Red Dead Redemption is a better experience than say, The Force Unleashed, but I still enjoy both games.
This was a system that worked consistently until 2007, when I played Assassin's Creed for the first time. Never, ever have I been so torn over whether I feel a game is good or bad. And what's even more troubling to me is that the uneasy feelings I have for the first game, carry over with more or less the same the same potency to the two sequels it spawned, Assassin's Creed II (ACII), and Assassin's Creed: Brotherhood (ACB). Now Ubisoft Montreal has announced a fourth game in the works; Assassin's Creed: Revelations, so I feel I need to make a final decision. Assassin's Creed sucks, and here are the top six bits-o-beef I have with the series.
1. The duel-story is garbage: What made the first game so unique was the story; dude gets kidnapped and is forced to be plugged into a machine that makes him relive the actions of his assassin ancestors. That had never really been done before. And the VR machine he's plugged into, the Animus, had this really cool way of blending sci-fi technology with a past life historical perspective. Even by the third game the effect hasn't worn off on the player; it's still really cool. But considering that the main plot of any game is the backbone of the entire story and experience, the fact that it's so dull in Assassin's Creed is unforgivable. I don't care that the main character is being kidnapped by secret organizations that want to control all of humanity, I just want to run off of buildings and kill stuff. Throughout the entire series, you probably have 100 hours of game play, and about 40 minutes of it involve some guy who's kidnapped. Why couldn't they just made it a game about killing people in ancient times?
2. The graphics are sub-par: Assassin's Creed is one of those epic experiences that feels like both a movie and a game. It's in the same category of games like Uncharted, Red Dead Redemption, Mass Effect, and L.A. Noir. But what Assassin's Creed lacks that all those other games have always had, are graphics that really immerse you into the overall experience. They aren't terrible by any standard, but they aren't rich and gorgeous either, and some of the cut-scenes are just atrocious. In ACB, there are some characters who, when they talk, it looks like their mouths are going to fall of the rest of their face. And there's nothing really show stopping about the way the environments look either. There's a ton of content, but it all looks second rate.
3. The characters are 2-dimensional: Again, like the rest of those games I just mentioned, Assassin's Creed should have characters that you really want to feel connected with, but the writing just isn't there for things to be that way. And the characters from the "modern" part of the duel story are just awful, non-relatable cardboard cutouts of generic personalities, which again, makes me care even less about that part of the game.
4. The controls are dog shit: There's no other way to put it; the controls in every Assassin's Creed game are the most confusing failures in all of modern gaming. I am convinced that Assassin's Creed is part of some evil conspiracy between Ubisoft and companies who make game controllers, to make people buy more of their product because the frustration during the game makes you smash all your controllers against the wall. I didn't finish the first game because I broke all my controllers. I should have learned from this and not even bought ACII, but I did and I broke two PS3 controllers in the process. It's not that the controls themselves don't work, it's that, since everything relies on you holding down a different set of buttons and everything in the game can be interacted with, you end up making the character do something that is NOT AT ALL WHAT YOU WANTED thousands of times, over and over. When I first got ACII, I broke the controller during the SECOND MISSION. That should have been a sign right there, but I plowed on through, until I was about 80% through the game, and I just kept bouncing off walls and falling to my death, or chasing after an enemy and instead mounted a horse and climbed a wall, until I eventually took the controller and slammed it into a brick wall until there was nothing left. And this is a shared experience that MANY people have had with the series. THAT IS NOT OK. Your game should not bring out intense and violent behavior in people.
5. The AI are all stupid: Many missions, especially in ACB, involve you protecting a friendly AI from guards while you try to make it to a check point. That sounds good, and it might be, if the AI weren't so badly programmed that you can't finish missions. You'll be leading them away from an enemy, and they'll get stuck in a crowd of people and move toward the guards and get noticed. Desynchronized. Or you'll be moving towards the checkpoint only to discover that the target is still in battle mode, backed in a corner, even though all the enemies are dead. Or they fall in the water and can't get back out. STUPID!
6. Overly difficult missions: There's a fine line between very challenging game play and something that's going to give you post traumatic stress disorder, and apparently Ubisoft doesn't know where the boundary is. The fact that there are difficult missions is one thing, but add the aforementioned broken controls into the equation therein lies a recipe for failure and frustration that you will have to put yourself through over and over until you get it right. And there is no pattern with how these terrible missions progress. You'll play a bunch of fun missions, then be forced to tackle a bunch of terrible ones, and then go back to fun missions, and then do terrible ones, and the cycle of hatred repeats itself. This is not the same thing as other games that are known for their frustration levels, Ninja Gaiden Black for instance. No, Assassin's Creed is just made up with a bunch of great experiences sprinkled with overly terrible ones, and it just destroys the overall fun of the game.
The worst part about all of this is all that could have been. Assassin's Creed has something that many games never have; the potential to be amazing. But what's happened here is a classic case of a game developer who doesn't listen to the fans. For instance, Dead Space was a great game, but Dead Space 2 is an even better one, and it's because EA took what fans had to say about the first game into consideration during the production of the second. The Assassin's Creed experience could have been improved in ACII, and then into ACB, but it wasn't. What pisses people off about the first game is right there in your face, four years later. And that's why Assassin's Creed really sucks; so much good is ruined by so much bad gone ignored.
Comments? Leave your intelligent feedback down below or consider following CollegeTimes on Facebook or Twitter to stay updated or to get in touch!
Share This Story:
Page ID #4022 - Last updated on Tags: