Getting an MBA: When, Where, Why, and How!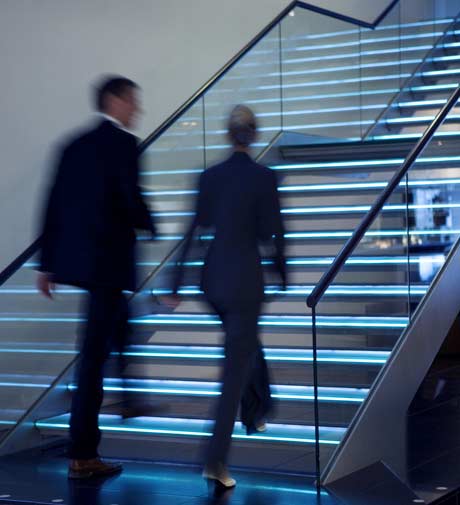 If you are currently an undergraduate, chances are you have at least vaguely thought about the idea of going to graduate school in the future. You've heard stories about the big salary gains or higher level positions behind doors that an MBA can open for you. On average, people with graduate-level or higher degrees earn at least $400,000 more in their lifetime than those who do not**. As a graduated student with plentiful experience in the job market, I would like to sort through all this cluttered information and lay out why an MBA is an excellent idea, when it is more appropriate and beneficial, and which resources are best for funding your advanced degree.
What is an MBA?
A Masters Degree in Business Administration (MBA) is essentially a specialization and much deeper course of learning than what you covered at your undergraduate school. It is centered around the sharing of strategy, very fine technical details, and networking with your fellow graduate students. It can be of general nature, or focus narrowly on one discipline of business: Forensic Accounting, Interactive Marketing, or Quantitative Analysis, to name a few. The length of the program depends entirely on what you intend to be studying, and you can complete an MBA as quickly as one year (full-time), or up to three years (part-time) both on-campus and online.
How will an MBA help me?
In a nutshell, an MBA is your way of saying, "I'm an expert in [your field here]." You have taken the enormous amount of time, resources, and (mental) sweat to earn two or more degrees; basically, you have proven your dedication. A current or prospective employer regards an MBA as a badge of tenacity; you invested several years for this knowledge and it makes you that much more of an asset to their business.
An MBA can be your ticket to an accelerated career. There are a lot of jobs out in the market that list an advanced degree as a prerequisite. Earning an MBA can give you the extra edge you need to qualify for that dream job and catapult you to new levels of higher pay grades, authority, and respect.
In addition, the path to earning an MBA can be just as rewarding as the degree itself. When you take Masters-level classes, you are placing yourself in a room with other very intelligent people; people with interesting and unique perspectives you may not have seen or thought of before. Graduate degrees are a much bigger time and financial investment, so there tend to be fewer social loafers than you probably had to deal with during your undergraduate education (though inevitably there will ALWAYS be a few.)
Another important benefit of an MBA is networking. If networking was not stressed in your undergraduate education, then you are hearing it now and need to memorize and believe in this sentence, "Networking is the most important part of business." When I say networking, I don't mean online social networks or information technology — I'm talking about face-to-face, interpersonal relationships. Your personal network is the most valuable thing you can ever build for yourself. You would not believe how many jobs, business opportunities, romantic introductions, and so many other wonderful things are passed between connected people all the time. So, why is an MBA so great for networking? You are surrounded by competent businesspeople who all share a common denominator with you: the desire to learn and get ahead. Make some friends, trade some business cards… you never know who you will meet that will hold the connection to your dream job or be your future business partner.
When should I return to school for my MBA?
The catch with a Masters degree in any business field is that full-time experience is a vital prerequisite to ensure that your application is as robust and compelling as possible. The most important reason for this is the fact that many schools won't even consider you for a graduate program without relevant job experience. They want a candidate who has spent time in the "real world" and can bring something to the program, not just take away knowledge and skills from it.
The trend lately has been to do your MBA degree straight out of undergrad. As a recent graduate, I have seen first hand how tough the market is and actually advise strongly against this. Weird as it may sound, it may actually hurt you when you finish the advanced degree. Without business experience "under your belt," a potential employer will look at your resume and give you less credit than they would to someone that had a wealth of experience, but no advanced degree. If you are currently working at a company and decide to do a part-time MBA, it can serve as an excellent career accelerator and potentially net you a raise or promotion when an opportunity becomes available. It is all a matter of balancing experience and knowledge.
Where should I go for my MBA?
To put it bluntly, if you can afford a nationally recognized school, find your specialization, and get accepted… go for the gold! An MBA does several things for you: it opens doors to promotions, higher paying jobs, bestows a measure of respect, and broadens and deepens your scope of knowledge in your chosen field. Therefore, go to wherever you think you will get the best possible experience, connections, and value for your hard earned dollars.
Online schools can be an excellent choice for many prospective students as well, due to their flexible nature. If you are working during the day, an online MBA can be the answer to your dilemma of when you will have time to take classes. In addition, the hybrid classroom* concept has been taking off lately, which can be an excellent learning method if you are skeptical of taking a class entirely online. There are a variety of resources on the web for comparing online degrees and searching for schools; one popular site is Edvisors.com, it has received a lot of traffic and praise for its large database of colleges and degree programs. In addition, GraduateCenter.com has a wealth of information about the entire process of getting into grad school, as well as funding resources, and other useful services.
*A hybrid classroom or course means that it is partially online, and partially a physical class at a school. An example of this would be a class that meets one or two times per week online, and once per week in a classroom for a lecture, lab, or for in-person Q&A sessions with the professor.
How will I pay for an MBA?
Scholarships are a great supplement to your funds for education if you qualify for one. They essentially are free money for use toward your school bills. There are lots of different types of scholarships that a student can earn, and many require an essay or some sort of written application to be considered. StudentScholarshipSearch.com and ScholarshipPoints.com are two great free online resources for finding and earning scholarships. ScholarshipPoints is pretty unique in that you earn and accumulate scholarship points through different online activities (reading blogs, taking surveys, etc.) and can redeem them for entries into a variety of monthly scholarship drawings. As an example, ScholarshipPoints runs a $10,000 quarterly and $1,000 monthly scholarship that are open to any user enrolled in school.
Many people think that the government only gives money to undergraduate students. There are just as many loan options and scholarships for graduate students as there are for undergraduates. If you need to take out a loan, go federal before you go private. Just like you did for your undergrad school, you need to file a FAFSA. For every federal loan, (Stafford, Parent PLUS, and Perkins) there is a graduate version for applicants with demonstrated financial need. Even if you do not qualify for the need-based loans, you will still be offered an unsubsidized Stafford loan that has lower fixed interest (6.8%) than you would be paying on a private student loan. However, in order to qualify for federal aid, your school needs to be enrolled in either the FFEL or Direct Loan program — contact your school's financial aid department for details.
A private student loan is also an excellent tool for helping to finance your advanced degree. They close the gap between what is awarded to you in federal aid and your total cost of attendance. Although they cost more in interest than federal loans, they are more flexible and can be used for essentially any school-related expense — be it rent for your apartment, paying for tuition, buying books, or any of the other unexpected costs that spring up while you are in school.
—
In the long run, earning an MBA will advance your career and help you in your quest for better, more desirable jobs. It can open doors that were previously closed to you, and highlight your success in both academics and business. An MBA signifies that you are educated and have the skill set to excel in your chosen field. Along with the drive to succeed, some street smarts, and a professional demeanor, your MBA can be the yellow brick road to your Emerald City.
** Data sourced from the U.S. Census Bureau, Current Population Surveys, March 1998, 1999, 2000
Comments? Leave your intelligent feedback down below or consider following CollegeTimes on Facebook or Twitter to stay updated or to get in touch!
Share This Story:
Page ID #3089 - Last updated on Tags: