Halting the slaughter of Albino innocents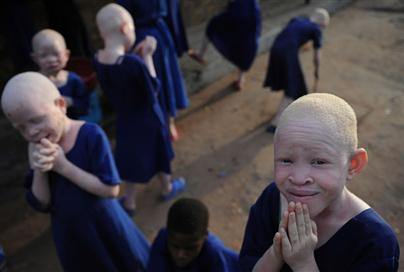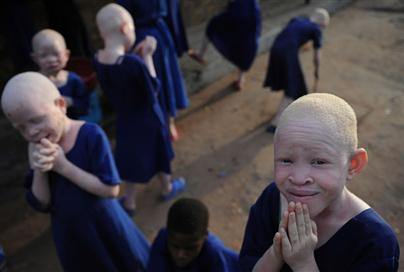 One would think in a world as Modern as our own, Myths resulting in Barbaric practices like this would be a thing of the past.  Now the Billions in Aid Dollars to Africa, one would think would go to education and worldly instruction on what is acceptable in this day and age. But alas when charges of corruption rear it's ugly head with our Aid Money landing in Regime Bank Accounts, one wonders why we are stilling pouring billions of dollars in Aid into this Africa Sieve? Cause it sure as hell ain't going to it's people!  But then we have that Illustrious Wonk Think Tank the United Nations, another Friggin Waste of Space and Taxpayers Money, who out of everyone is comprised of African Leaders who could do something about all this, but clearly are not!
This brings another question, Immigration! How would this type of issue be handled with new African arrivals to the West? Especially if these are some of the same people who believe and practice such nonsense!  Again, I direct you to my argument of Ethnic Vote Sucking Politicians who care little about the safety of Canadians or newly arrived Immigrants if it ensures they get the Immigrant vote.
You don't hand out Keys to an aircraft without ensuring the user has flight training before they even board a plane, so you should sure as hell ensure those who come to this country beforehand, they get some knowledge beforehand what we are all about!  Watching "TV reruns of "Dallas or  Desperate Housewives", ain't classed as On the Job Training on how to be a good and productive Canadian for Immigrants!   Many Leftards state we can't tell em to change their culture to suit ours! We are a Diverse "Gag" Multicultural "Verbal Diarrhea" society, babble, blather etc. To that I say, go back to smoking another Joint there Tofuhead, when they are living in my Backyard, you bet your Ass they better know what we expect from them!
We currently have a Gang problem in this country! Why? Cause Lefty Society, let it happen!
I say Lefty, because those of us who are Right Thinking tried to Nip it in the Bud to no avail when Lefty society thought penalties and  imprisonment was cruel  and unusual punishment!
Now we are at a point of no return unless something is done about it, and done Now!
How does this Gang Thing tie into Africans practicing  barbaric customs? Everything!  Canadian Gangs have been left to roam relatively unmolested for so long, with little justice meted out to them, a slap of the wrist in a Revolving Door Court system. So is it any wonder Butchering Albino Children seems the Norm in their country, when Gangs in our Country have free reign.  Bottom Line…. The Punishment is lacking in both countries. If our Government cannot apprise Canadian Gangs here of the customs and penalties of their actions, and when they do it is always inconsistent, what makes you think New Arrivals will take what the Government says seriously? Especially when New Arrivals see lawlessness in our streets which mirrors their Old Country with little penalty.  Hence the Somalian Machete wielding Gangs in Ottawa, Ontario.
Are we in the West so full of ourselves that we take it for Granted the World revolves around our Customs and Practices? Especially since we rarely practice what we preach when it comes to the Law of the Land?
Of course many will say Barry, take off the KKK hood! To that I say, in my time back east there were a group of new Somalian arrivals who would attend an Ottawa high school daily armed with Machetes hidden in their pantlegs, as that was their way, their culture.  In addition, these youths thought nothing of trying to sexually accost or harass young ladies in the school for the taking, again, that was their way and culture!  A man is king in their land and ladies are on this earth for the taking.  Now you tell me Immigration didn't know the cultural background of Somalia? Again information new arrivals could have used, but didn't get! Would it have helped new arrivals? Perhaps, but at least they would have been warned about the consequences of their actions!
Police and freaked out parents were called, it took close to two years to stop this from happening, as these youths thought it quite natural it seems to protect themselves, extort money and goods or harass young ladies.  Perhaps in war torn Somalia this is common, but not in Canada!
Thankfully if memory serves me correct there were no fatalities because of it, but there were a few injuries, gang fights with these Somalia teens and their machetes etc.
It is a sad fact that when we take it for granted and accept new arrivals expecting them to act in what we in Canada percieve as a civilized manner,  yet if we (Immigration) does not study the area and customs, practices where these immigrants came from are we that complacent to assume they will act like us?  Apparently so, why not give them a crash course long before their arrival that you must give up certain customs and beliefs if they are contrary to Canadian rules and norms, because to do otherwise may be contrary to our laws of the land.  I remember meeting some newly arrived immigrants Freaking out if anyone in uniform passed them by, why? Because in their home country, a Uniform usually meant you were taken away, and never heard from again! Probably would have been helpful to inform Immigrants that Canadians in uniform are not like the oppressive regimes back home.  Another item is banking, many new arrivals do not trust banks, as their countries banking system was so crooked, no one trusted banks, so these newly arrived immigrants walked around with large wads of cash, and/or stored their life savings under their mattresses. This left them susceptible to Robbery, home invasions and scams.  Again, information Immigrants could have used upon arrival to this country.
So before you "Leftards" Unholster your "Waggin Fingers" with charges of Racism at me, just know Barbaric stories like this and like many others such as Honour Killings is just one of the same beliefs, rumours and innuendo that we witness in the media and shake our heads and wonder, what is this world coming to?  Bottom Line, just don't mamby pamby welcome anyone into our country without trying to understand where they come from and their customs without apprising them that their way may not be our way.  Like the saying goes when in Rome………………
In ending, coming full circle, the Canadian Political Leftards have recently seen the error of their ways with a Massive Outcry for Action by Canadians tired of being held Hostage in their own homes and allowed the Right to start taking names and increasing penalties and prison for crimes, the Leftys in the Senate had previously stonewalled for the last 4 years in rejecting the Conservative Governments Crime Bill for Serious Time for Serious Crimes!
The next step, let those know who wish to make Canada their home, we enforce laws, public safety is paramount including yours and your family and not to fear everyone who dons a uniform.
Halting the slaughter of Albino innocents
Megan O'Toole, National Post Published: Friday, February 27, 2009
To the vicious hunters of northwestern Tanzania, she is "zeru zeru" — invisible, inhuman, a ghost.

Under cover of darkness, a group of men charge into young Viviana's room in the middle of the night, pin her pale form immobile, and hack off one of her little legs as her sister screams in horror.

Viviana, shockingly, is among the lucky ones. The commotion draws the attention of neighbours, and the attackers slip off into the night without finishing the job. She is left an amputee, but alive.

The single albino leg will fetch upwards of $1,000 in a gruesome market controlled by powerful Tanzanian witch doctors, who grind the bones into potions and repurpose them as good luck charms for struggling miners and fishermen.
Comments? Leave your intelligent feedback down below or consider following CollegeTimes on Facebook or Twitter to stay updated or to get in touch!
Share This Story:
Page ID #1015 - Last updated on Tags: