'Homeland Security' Tasked With Explaining The American Higher Education System To Foreigners?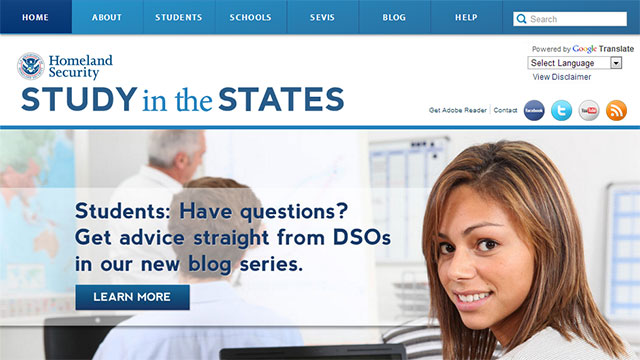 In a bizarre arrangement that might compare to police officers driving school buses, the U.S. Department of Homeland Security has seemingly been tasked with introducing students around the world to the American system of higher education.
'Study in the States' – Completely Unknown After 3 Years?
The website in question, called "Study in the States" was actually launched way back in September 2011 by then-DHS Secretary Janet Napolitano at a small ceremony apparently hosted by the University of Wisconsin : Madison campus. But not until much more recently – in the past 9 months or so – did 'Study' seem to get actively involved on social media networks such as Facebook and Twitter.
Never heard of the project? Either had we, up until a few weeks ago. But just for fun, we searched tirelessly for any articles written about the website by well-established publications such as IntoHigherEd, Chronicle.com, The Atlantic, and other magazines that focus largely on higher education.
What did we find? Zilch. Not one of these publications, let alone national newspaper franchises, seem to have ever written anything about the project. In fact, the only significant article we could find was a January 2013 piece by The Register (UK), reporting that Study in the States had been hacked by a group called NullCrew because 'Homeland Security' had failed to update their WordPress software for several months and had left their server so vulnerable that NullCrew was able to access plaintext database passwords.
It's rather peculiar that a government agency whose sole mission is the 'security' of America, with an annual budget of $60-98 billion a year, could so easily be hacked, while executing a mission that seems to be none of their business to begin with.
Ultimate Example Of Misappropriation, Government 'Disconnect'
Of course, no federal government website would be complete without awkward photos of 'happy customers' and dozens of unintelligible acronyms that sound like a smorgasbord of venereal diseases, or perhaps high-tech combat terms thought up by the U.S. military.
DSO. SEVP. STEM. F&M. HSI. EAS. NAFSA. NACAC. SEVIS. NATLPREP. NHC. SSN.
These are just a few of the terms that international students, most of whom speak English as a second language, come across while browsing the Study in the States homepage and associated social media profiles. While 'Homeland Security' appears to believe they have solved any comprehension issues by providing an automated Google Translate widget at the top of the website, surely they must know that Latin-based acronyms remain ambiguous and undefined – regardless of contextual translations.
Out of the thousands of posts shared to the 'Study' Facebook and Twitter profiles in the past year or so, almost every single one of them lacks any shares or comments – presumably because their (very few) followers don't have any idea what the posts mean. Take for example, the confusing, acronym-laden tweets embedded below:
https://twitter.com/StudyinStates/status/378548723011182592
https://twitter.com/StudyinStates/status/372372985593622529
Such confusing posts (many of which are meant for 3rd parties, and NOT for students arriving to America) are complimented by shout outs to federal agencies such as the Federal Emergency Management Agency, the National Hurricane Center, the Transportation Security Administration, and others dedicated to security and disaster relief, often times warning foreigners to assemble an unspecified 'emergency kit' in case of disasters, and to watch what they do on the internet (STOP. THINK. CONNECT.), lest they suffer the consequences (#NCSAM baby):
https://twitter.com/StaySafeOnline/status/395660491856838657
(The only video we could find on YouTube about the project on 'Homeland Security' profiles has garnered a measly 1,752 views since being uploaded during May 2013, and has comments disabled so that users can't post any questions or feedback to the 'Study' team.)
Study in the States is yet another testament to the ever-growing powers of the Department of Homeland Security as it quickly becomes the 'omniscient gateway' through which the U.S. government wishes all agencies, citizens, and non-citizens to pass through before moving on. To see 'Homeland' now attempting to usurp responsibilities that traditionally, and logically, belong to the Department of Education or the Department of State, is a disturbing new direction that should be earnestly questioned.
Comments? Leave your intelligent feedback down below or consider following CollegeTimes on Facebook or Twitter to stay updated or to get in touch!
Share This Story:
Page ID #47975 - Last updated on Tags: