The 15 Coolest College Courses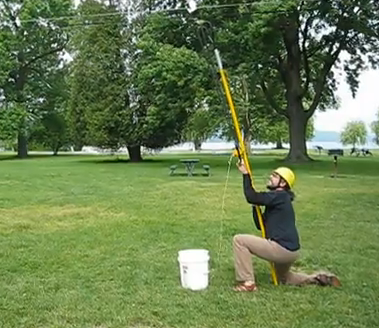 CLASS: The American Vacation
UNIVERSITY: University of Iowa
This class is a trip–literally. At the University of Iowa, students can delve into how American families varying backgrounds shape their vacation experience. The class dives into American vacations at a very microscopic level with lectures on the social history of vacations, the cultural significance of contemporary vacationing patterns and the patterns of vacations based on race, class, gender. Enrolled students are expected to deconstruct your personal experiences on family vacations. I wouldn't mind researching Disneyland, Graceland or the Grand Canyon… Would you?

CLASS: Art of Walking
UNIVERSITY: Centre College in Danville, Kentucky
Undergrad philosophy courses can be extremely hum-drum with pretentious intellectuals. But at Kentucky's Centre College, Dr. Ken Keffer, Professor of Modern Languages, takes an approach to philosophy that is anything but ordinary. Publicized by the Chronicle of Higher Education, Dr. Keffer and his fleet of college students enrolled in "The Art of Walking" walk through to the area's natural gems and get deep. The goal of the class is to elicit free-flowing communication and learning simple philosophy by discovering new ways to view personal existence within natural beauty. Sounds like a walk in the park!
CLASS: Philosophy and Star Trek
UNIVERSITY: Georgetown University
According to Philosophy professors at Georgetown University "Star Trek is very philosophical." Who knew? Well, after reading the course description of this class, I am convinced that this legendary Hollywood flick may be able to teach students a lesson or two in philosophy. In this class, Georgetown University takes a uncommon approach to starting truth-seeking discussions of human nature by beginning with popular culture. This course is a platform to metaphysics and epistemology philosophy, centered around major philosophical questions that come up again and again in Star Trek–like, "Is time travel possible" and "Could reality be radically different from what 'we' (I?) think?" Maybe this class is an excuse to repeatedly watch Star Trek, but either way–very cool class!
CLASS: Daytime Serials: Family and Social Roles
UNIVERSITY: The University of Wisconsin
Daytime soap opera-loving students from the University of Wisconsin-Madison need not fret about missing "Days of Our Lives" or "As the World Turns." Class 350 in the Women's Studies department offers a class on daytime soap operas–but (of course) with an educational twist. Students in this class are forced to dissect how soap operas affect gender issues of modern day. The class analyzes the themes and characters that populate television's daytime dramas, while investigating their social impact these gender roles in the family and in the work place.
CLASS: Topics in Comparative Media: American Pro Wrestling
UNIVERSITY: Massachusetts Institute of Technology
The Comparative Media Studies Department at Massachusetts Institute of Technology gets "raw" with students, as it dedicates a whole class to the study of American professional wrestling. No folks, Hulk Hogan does not teach this class and the coursework goes a bit more in-depth than the wrestler's round-house moves. "American Pro Wrestling" allows students to explore the cultural history and media coverage surrounding the masculine drama of professional wrestling, while moving chronologically in an examination of how wrestling characters and performances have changed since the industry's inception.
CLASS: White-Collar and Corporate Crime
UNIVERSITY: University of California – Irvine
University of California's Social Ecology department knows more about white collar crimes than anyone besides an ex-convict. The course, "White-Collar and Corporate Crimes" divulges these inconspicuous convict's motives while studying the criminal activity surrounding high-profile professions, organizations and businesses. As a seasoned Professor of Criminology, Law and Society, the class's professor is sure to offer extremely interesting lectures, with case studies on famous white-collared bandits like Martha Stewart.
CLASS: Airline Emergency Cabin Training
UNIVERSITY: Lynn University
AVM 471–a three credit class at the Floridian Lynn University–teaches students the basic understanding of airline emergencies. The final goal of the class? At the completion of this course students will have a basic understanding of airline emergency situation procedures and demonstrate the ability to make appropriate emergency responses. And the course curriculum is not even the kicker–the students of this class are required to take 15 hours of practical demonstration. Hope one of these students is not on my next flight!
CLASS: The Joy of Garbage
UNIVERSITY: Santa Clara University
I didn't think anyone liked garbage, but apparently I am wrong. Santa Clara University's Environmental Studies department has an undying passion for refuse, and they would like to share their love with college students in the class "The Joy of Garbage." This class follows the lifeline of garbage as it is disposed of, burnt, decomposed, landfilled, treated, recycled, reused or just shipped out of sight–all tying back to the scientific method. Students in this class can expect a few field trips to the dump.
CLASS: Biology of AIDS and STD's
UNIVERSITY: Northeastern College
BIO 1815, otherwise known as "Biology of AIDS and STD's" at Northeastern College definitely tops the list of grossest classes in existence. Though I suppose inquiring medical minds could learn a lot about the biology of these types of infectious diseases, this class is sure to make your stomach churn. This course takes a very scientific approach at these nasty diseases by sharing the biological aspects of Sexually Transmitted Diseases in order to understand the complexities inherent in finding cures. It goes as in depth as finding origins of these diseases, how they deconstruct the immune system and modes of transportation of these nasty pathogens.
CLASS: Disney in America
UNIVERSITY: University of Iowa
Think you can learn something from Mickey Mouse? Well the American Studies department at the University of Iowa does. The class, "Disney in America" drives to discover how the Walt Disney Corporation has influenced cultural ideology in America. The class recaps the evolution of Disney from its inception in the 1920s to modern day, as a gargantuan entertainment conglomerate. The coursework even exposes Hollywood's contributions to the pivotal moments in American history, like the Great Depression, World War II and the 1950s urban sprawl. Whoever thought Disney could be that interesting and complex?!
CLASS: Rock Music from 1970 to Present
UNIVERSITY: University of Minnesota-Twin Cities
"Rock Music from 1970s to Present," offered at the University of Minnesota is a rock-lover's dream. The course covers the esteemed "Golden Age" of music from Meatloaf and Bon Jovi to boy-band superstars like N'Sync and hard-knock rappers like Tupac. Music videos, the grunge era and hair bands are also lectured on in this class. Though you may not be learning practical skills for your next job, this class will undoubtedly provide great conversation starters for your next first date.
CLASS: Learning from YouTube
UNIVERSITY: Pitzer College
Think that higher education professors are stuck in the 1990s with textbook-based learning? Well–not at Pitzer College in Southern California, where the class "Learning from YouTube" is offered. Media Studies Professor, Alexandra Juhasz teaches students the "ins and outs" of this online video hub, while allowing students to engage in the network as a primary source for communicating in the class. (The class syllabus and assignments can even found on YouTube at http://www.youtube.com/group/learningfromyoutube.) This class is so quirky that it has received tons of media attention from outlets including PBS and TechCrunch.
CLASS: Psychology of Facebook
UNIVERSITY: Stanford
Proof lies in the pudding that social media has become a influential force in today's society. Stanford professor, Dr. B.J. Fogg offers a class called "The Psychology of Facebook" where he spearheads the effort to make students an expert on the psychology of Facebook, especially in how persuasion works in that social network. Funny enough, you will find that the actual course syllabus and description of this class is found on a Facebook group. Even if you are not a Stanford student, there are still opportunities to participate in coursework!
CLASS: Underwater Basket Weaving
UNIVERSITY: Reed College
Reed College in Portland, Oregon takes dexterity education to a new level with the quirky class, "Underwater Basket Weaving." Underwater basket weaving involves constructing wicker baskets by dipping reeds and stalks of plants into water and letting them soak, all the while being fully submerged underwater. It's a "full-body" experience to say the least.
CLASS: Tree Climbing
UNIVERSITY: Cornell University
Education has reached new heights with this Cornell course. "Tree Climbing" at Cornell University allows students to rekindle the sense of adventure from when you were a youth climbing up into the branches of sprawling trees. The class covers numerous venues (aka. trees) and shows enrolled collegians how to use different forms of equipment, while teaching you how to use ropes and technical climbing gear to reach the top of any tree. Whether you are monkey "wanna be" or a thrill-seeker, this class is for you!
About Rasmussen College: Then called the Rasmussen Practical School of Business, Rasmussen College was founded on September 1, 1900 in St. Paul, Minnesota by Walter Rasmussen. Today, Rasmussen College is a provider of online degrees, delivering regionally accredited Bachelor's, Master's, and Associate's degree programs through its network of campuses and partnerships.
Comments? Leave your intelligent feedback down below or consider following CollegeTimes on Facebook or Twitter to stay updated or to get in touch!
Share This Story:
Page ID #2786 - Last updated on Tags: