10 Easy Ways for Apple to Improve the iPad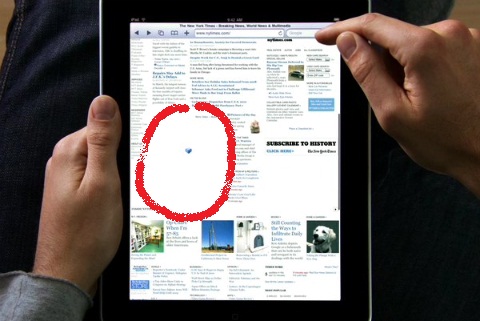 Apple repeatedly refers to the iPad as being "magical", but you're anything like me and you own an iPad or iPad 2, you probably feel guilty when you look down at it's sleek screen and think, "The blood and sweat of child labor went into the creation of this device, and I can't even watch Flash on it." The allure of owning an iPad is strong, but the payoff is weak because unlike the iPhone, which revolutionized the way we use our phones, the iPad hasn't revolutionized laptops. It's less convenient than any laptop, and it's not a phone either, so it's actually less convenient than anything that could have inspired it. And unfortunately if you own one, you know that there's not allot you can do to make it better.
What I give you then, is a proposal of sorts, a collection of ideas that I feel, would give the iPad more functionality. Here are the top ten suggestions I have that Steve Jobs will never read, but should:
10. Support for Flash:  I really don't give a damn how long and hard the feud with Adobe and Apple has lasted.  Just give the iPad flash support already. Steve Jobs thinks the iPad is fine without Flash, because it supports HTML 5; that doesn't prove whether he's an idiot or not, it only proves that he doesn't care how useful the iPad is to the people who actually buy iPads. HTML 5 might be a safer alternative to Flash, but the entire web isn't going to switch formats anytime soon. The fact that the iPad still doesn't have Flash, ostensibly because Adobe and Apple had some sort of cat fight years ago is ridiculous.
9. USB ports and SD/microSD slots: Remember about eight years ago, when computer manufactures gradually started removing floppy drives from computers? That was understandable. And then remember when netbooks first came out, how none of them had CD/DVD ROM drives? Alright that was a bit of a shock, but we all got used to it because they still all had USB and SD drives, so it wasn't like the internet was the only way to transfer files to and from the device. Then remember when you bought an iPad and thought "Oh shit it has nothing?" Or when you got that iPad 2 you thought "Oh shit still nothing? Really?"  Yeah that's bullshit. And you know what's the worst thing about it? Apple claims that they didn't give the iPad 2 external memory slots because it has more internal memory, and they wanted to make it thinner, obviously responding to the flood of Apple fan mail we all sent that said "I LOOVE my iPad! It's so worthless! Please tell me you'll sacrifice any plans you might have to improve it's usability my making it a thinner, lighter turd I can show off to my friends!"
8. Mouse support: Touch screens are good for allot of things but unfortunately data intensive computing is not one of them. I think that's something that most people didn't realize was ever going to be a reality, especially as touch screens became more common place and improved our lives so quickly. But writing an email or editing a document is a tedious and overly complex process when you can only use a touch screen instead of a mouse and cursor. The iPad desperately needs native support for wireless keyboards and mice, but it doesn't.
7. Make the iPad a stand-alone device: A new iPad needs to be plugged into a computer and synced with iTunes before it can be turned on. The only way to back up your iPad is to sync it with iTunes. The only way to update your iPad's firmware is to sync it with iTunes.  That garbage needs to stop right now. The portability of any gadget is limited to the amount of outside technology you need with you to use it reliably. Until Apple makes the iPad a stand alone device, it's not really a portable computer.
6. Include a file handling system in iOS 5: One of the biggest problems with the iPad is that iOS lacks a file handling system. Imagine what it would be like on a laptop  if you wanted to upload a pic to Facebook, or a resume to Careerbuilder, or attach a document to an email, but Windows didn't have Explorer so you couldn't select the file. You'd do what any well grounded person would do; smash your teeth out with a wrench and throw feces on the walls. Seriously, of all the features that are absent from the iPad 1&2, it's this one that baffles me the most. Apple needs to provide a file handling system in the iOS 5 upgrade or they might as well program a giant cartoon dick to pop-up on the screen and do pelvic thrusts anytime you try to do anything productive.
5. Program a giant cartoon dick to pop up and do pelvic thrusts on the screen, but only when you try and do anything productive: Because any other time that happens, a line has been crossed.
4. Stop coming out with new iPads until you make a decent iPad: The first iPad was useless and less than a year later the iPad 2 was in stores, despite it being just as useless as the first. And now they're talking about the iPad 3. At this rate, Steve Jobs will just thunk out another turd every year and every new model will be just as stinky as the last, just fresher and with a new number.
3. Listen to the consumer base: I'm not a Windows fanboi by any means, but Windows 7 was an amazing improvement upon Vista. This is because people wrote to Microsoft with their complaints and recommendations, and Microsoft listened. Apple's not like that, and I think they need to start being that way, especially with the iPad. There's not just a little confusion over why the iPad lacks so many useful features, there's not just a demand from consumers that things need to change, there's also just tons of iPad hate out there in those wild internets. People who've never used or even owned an iPad hate the iPad, and again, this is not just the sabotage work of die-hard Microsoft fans. People everywhere know how incredibly stupid the iPad is. It's uselessness is LEGENDARY. It is the John Kerry of geek toys. Meanwhile, Apple's competitors have emerged with just SHIT TONS of Android tablets to fill the needs of consumers who want tablet computers to actually do useful things with. Even RIM, who essentially watched the BlackBerry product line get crushed to death by iPhone sales, has a tablet that does a least ONE THING right that iPad has still failed to do; Flash. WTF APPLE?! Are you paying attention at ALL?! VIZO just announced that's coming out with an Android tablet! THEY DON'T EVEN MAKE REAL TVS.
2. Embrace the open-source community: Look Apple, if you're not going to make any effort to make the iPad more useful to the consumer, then at least allow the consumer to try fix it themselves. I'm talking about embracing open source technology here. You can't totally fix the iPad's uselessness by jail-breaking it, but it can be made a lot better by doing so. I know this is never going to happen. Apple will never join the Open Handset Alliance, they've been anal about people modding their products since the start. But maybe it's time to change things.
1. Stop making iPads: Or fire Steve Jobs. Or sell the iPad license to another company. Whatever. The bottom line, if you've been paying attention to anything listed in this article, is that Apple isn't good for iPad. You see, there are actually several solutions to the problems I've talked about here, but every one involves you buying accessories. Want mouse and keyboard support? You can do that, but you have to buy Apple's camera connectivity kit first, then a BlueTooth dongle to plug into the camera kit, then a BlueTooth keyboard and mouse. That is a solution that will set you back at least $100 folks, and only if you buy on the cheap. The only thing you're buying from Apple, in this example, is the freaking camera kit, which plugs into the non-USB charger port. So now you know the real reason why the iPad 2 doesn't have expandable memory slots; it means they can charge you for the camera kit.
If Apple wants the iPad line to be anywhere as successful as the iPhone and iPod then they need to fill it with useful products that have something about them you can't find anywhere else. As it stands right now,neither iPad model is very useful, and neither offer consumers some unique feature that they can't find somewhere else. The iPad's magic has worn off, and Apple needs to find a constructive way to bring it back instead of flooding the market with the same garbage.
Comments? Leave your intelligent feedback down below or consider following CollegeTimes on Facebook or Twitter to stay updated or to get in touch!
Share This Story:
Page ID #34958 - Last updated on Tags: