5 Modern-Day Shamans Who Changed The World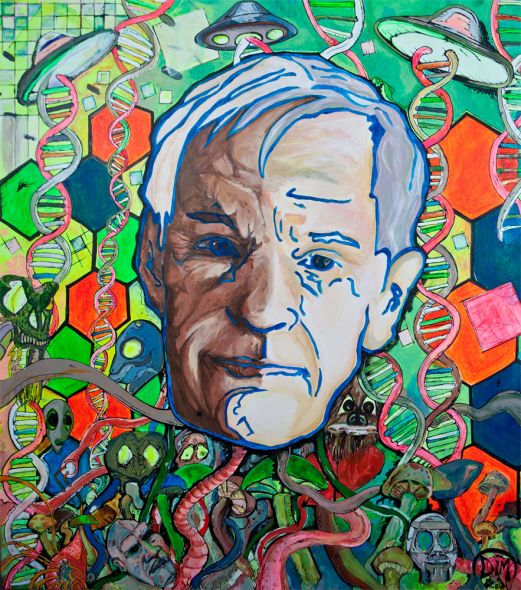 Long before the sub-reddit "trees" existed, individuals and college students have gathered into groups to talk about, study, and experiment with psychoactive substances. Most of these people were "casual users", but a few were hardcore enough that their trips infected and changed the world around them.
1. Timothy Francis Leary (1920-1996)
Who he was: Perhaps the most important and perhaps the most misunderstood individual in 1960's counterculture. Leary was once described as "The most dangerous man in America" by President Richard Nixon. Once a regular day-job commuter, Leary later became infamous within the intellectual community for his Harvard Psilocybin Project which began in 1967. Even though the project was cancelled two years later due to safety concerns, Leary continued to pursue his scientific interest and personal advocacy of psychedelic drugs until his death.
Why he's relevant: Leary was partially responsible for dismantling the "square" society that existed in America in the early 1960's with his psychedelic advocacy and phrase "Turn on, tune in, drop out." While at Harvard, he became convinced with the revolutionary notion that psychology had become ineffective because it merely studied human behavior, but did nothing to change it. He wrote several books including "The Psychedelic Experience" a manual describing how to use psychedelic drugs to explore what he believed was the last unknown frontier; the human mind.
How he changed the world: The experiments at Harvard became a springboard for the psychedelic movement and drug counterculture of the 60's and 70's. His life and works have and continue to influence countless writers, poets and musicians including Robert Anton Wilson, The Beatles, Ken Kesey, Paul Krassner, The Grateful Dead, Terrance McKenna, Tool, and Bill Hicks.
2. Ken Kesey (1935-2001)
Who he was: A champion wrestler in both high school and college, Kesey volunteered to participated in a 1959 CIA-funded study on the effects of various psychedelic drugs including LSD and psilocybin. The experience inspired him to write "One Flew Over the Cuckoo's Nest". He was the founder of The Merry Pranksters, a communal group who traveled around the country in a painted school-bus and promoted the use psychedelic drugs. He was introduced to Timothy Leary by Allen Ginsberg, and the two remained lifelong friends.
Why he's relevant: Kesey and The Merry Pranksters were the other half of Leary's "LSD camp" and threw massive parties called "Acid Tests" in the San Francisco area from 1965-1966. If Leary was a pioneer in the psychedelic movement, than Kesey was the one who brought it to the youth of America. "One Flew Over the Cuckoo's Nest" was a huge success and was later adapted for a stage play and movie.
How he changed the world: Like Leary, Kesey influenced a large number of people who then went on to influence others. Tom Wolf's "The Electric-acid Koolaid Test" was based on Kesey and The Merry Pranksters. Hunter S. Thompson's "Hell's Angels: The Strange and Terrible Saga of Outlaw Motorcycle Gangs" also describes these parties based on the poems of Allen Ginsberg.
3. John C. Lilly (1915-2001)
Who he was: A physician, scientist, neuroscientist, psychoanalyst, philosopher and writer. Lilly developed the first sensory deprivation tank, a dark soundproof tank of warm salt water in which subjects could float for long periods in sensory isolation.
Why he's relevant: During his exploration of psychedelic substances, Lily would take LSD and ketamine while submerged in these tanks, or amongst the company of dolphins. In 1972 he published two books documenting these experiences (Programming and Metaprogramming in the Human Biocomputer: Theory and Experiments and The Center of the Cyclone).
How he changed the world: Lilly's life was the inspiration behind the movies "The Day of the Dolphin" (1973) and "Altered States" (1980). Lilly may not have not have quite the dramatic influence on others as Leary or Kesey did, but his pioneer scientific work helped us understand not only how drugs such as LSD and ketamine work, but how the human brain itself operates.
4. Aldous Huxley (1894-1963)
Who he was: A writer, philosopher, and leader of modern thought. He had interests in parapsychology and mysticism, and is probably best known for his two classic books "Brave New World" and "The Doors of Perception" the latter of which describes his use of psychedelic drugs.
Why he's relevant: Where it not for Huxley there might not have ever been any psychedelic movement at all. Leary read "The Doors of Perception" shortly after his first use of psilocybic mushrooms, and found that it had some correlation with his experience.
How he changed the world: Like Lilly, Huxley brought many things to the world that don't have anything to do with psychedelics, but the stuff he did bring helped shape everything. "The Doors of Perception" is considered one of the first ethogenic works concerning psychedelics. It's influence upon Leary, Ginsberg, Kesey, and other pioneers of the psychedelic movement, changed everything and turned an entire generation on to the use of psychedelic drugs as a spiritual tool.
5. Terrence McKenna (1945-2000)
Who he was: A writer and lecturer, his interests were mainly concerned with psychedelic drugs and their role in society.
Why he's relevant: McKenna continued to experiment with psychedelics long after the 60's counterculture had ended. In some ways he was a protege of Leary, as he continued to explore altered states of mind while on psychedelics. He was the first to document the existence of "machine elves" while on large doses of DMT. He developed "The Stoned Ape" hypothesis of human evolution. Like Kesey and Leary, McKenna saw the internet as a huge step forward in human evolution, and shortly before his death, proposed the theory of time-wave zero, the theory that at a certain date, everything in the universe will reach singularity.
How he changed the world: McKenna's influence continues today, as many of his lectures can be found on the internet and Youtube. He was friends with comedian Bill Hicks, a who also advocated the use of psychedelics as spiritual and evolutionary tools in his act.
Comments? Leave your intelligent feedback down below or consider following CollegeTimes on Facebook or Twitter to stay updated or to get in touch!
Share This Story:
Page ID #34951 - Last updated on Tags: