Yik Yak: The Anonymous 'Shaming' App That Recalls Unpleasant Bullying Memories Of JuicyCampus.Com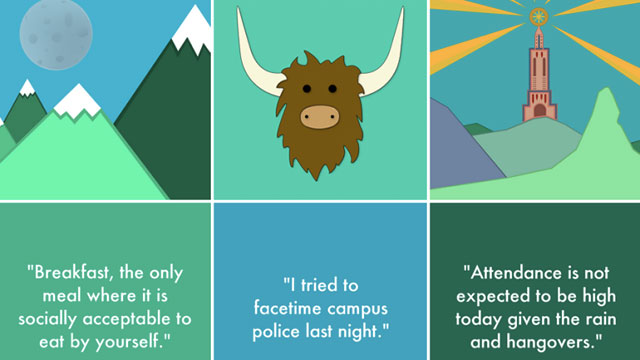 Quick! What do Facebook, JuicyCampus, and Yik Yak all have in common?
They were all started by college frat boys intent on shaming other students.
They say that history repeats itself – and nowhere does this appear more true than in the saturated, copycat world of over-hyped mobile apps and websites.
Yik Yak: Yet Another Cyber-Bullying App
In early 2014, an anonymous bulletin-board styled app called Yik Yak starting gaining rapid traction among college and high school students across America. But almost immediately, it was clear that any widespread growth achieved by the small company would not be without a great deal of controversy.
Yik Yak, started by two Furman University students, Tyler Droll and Brooks Buffington, aimed to connect users through anonymous, public, location-based posts. The young men, now graduated, were both members of the Kappa Alpha fraternity, one of many striking similarities with the now-defunct JuicyCampus.com website that exploded in popularity before its sudden demise in 2009 in the face of legal threats and lack of advertisers.
In the past few weeks, media coverage of Yik Yak has skyrocketed – but in a majority of cases, the stories reported are outrageous. Here are some recent headlines:
February, 2014: In Mobile, Alabama, both a 16-year-old and a 14-year-old from the area were charged with making terrorist threats via Yik Yak, a felony. Acting separately, each used Yik Yak to announce shootings at local high schools.
February 21, 2014: Moorestown High School, in Philadelphia, suspended the use of smartphones on campus after Yik Yak-based sexual (etc) harassment.
March 5, 2014: Marblehead High School, in Massachusetts, was forced to evacuate the school twice in one day from two separate bomb threats on Yik Yak.
March 5, 2014: Lake Forest High School, in Chicago, banned Yik Yak after the app was primarily used to bully students and school faculty.
March 6, 2014: San Clemente High School, in Southern California, was placed on lockdown after an anonymous bomb threat was posted on Yik Yak.
March 6, 2014: After widespread backlash from Chicago area schools, Yik Yak is forced to block the entire metropolitan area of Chicago from using Yik Yak.
In response to the Mobile-area terrorist threats involving minors, Mobile District Attorney Ashley Rich called "bullshit" on the Yik Yak creators, despite their app's homepage 'imploring' users not to use Yik Yak for cyber-bullying. "They absolutely know it's being used that way if they are telling people not to use it that way," she said, according to a recent article appearing on Philly.com, a web portal run by the Philadelphia Inquirer.
That same article on Philly.com reports that Droll and Buffington have been capitalizing on their fraternity connection to generate more attention for Yik Yak, by emailing frat bothers across the country to "spread the word" about the gossip app.
JuicyCampus, born before the mobile app craze, was launched by Matt Ivester, a highly-profiled member of the Sigma Phi Epsilon fraternity during his time at Duke University. Ivester, who aggressively defended the website for months in the name of "free speech" despite dozens of schools criticizing or even banning the project, has spent the last 5 years desperately trying to re-create himself. In 2011, while enrolled at Stanford University Business School, Ivestor released a book called lol…OMG! which chronicled the perils of cyber-bullying and digital citizenship. Currently, he is the CEO of app startup company Kindr, based in Palo Alto, which aims to spread "kindness" and "make friends smile" – which has turned out to be a flop. (Note: Ivester also launched his own Facebook fan page, which has garnered a total of 16 fans since being published in 2011.)
Update 3/16/2014: In response to our article, Matt Ivester appears to have quietly deleted his public Facebook page.
While it took JuicyCampus almost two years to generate significant controversy, smartphone-era Yik Yak has managed to do so in just a few short months.
As of yesterday, TechCrunch reports that Yik Yak has followed through on an earlier promise to 'geo-ban' high schools and middle schools using detailed GPS data. Using coordinates provided by data provider Maponics, Yik Yak hopes to prove their dedication to fighting cyber-bullying among young American students by blocking use of the app at any school in America that hosts students under 17 years of age. However, such a 'ban' does nothing to stop students from using the app immediately after leaving campus, or by leveraging multiple work-arounds such as WiFi, VPNs, proxies, etc. Strangely, the app's creators don't seem to have any problem with continued cyber-bullying among college students – still the primary target of Yik Yak – despite their efforts to compare the technology to messaging startups Secret and Whisper.
At the height of the JuicyCampus controversy, The Chronicle published an article decrying all the media attention the gossip-whoring website was getting, arguing that the best defense for cyber-bullying was to simply 'ignore' the project, noting that Google pulled its ad network from JuicyCampus completely on their own accord. But in an age where most teenagers now have direct access to smartphones, such an approach would perhaps only embolden apps like Yik Yak to continue development sans criticism.
So far, Yik Yak has only seen investment from Atlanta Capital in the form of a $20,000 convertible note. But only time will tell if the company's goal of localized ad monetization will be compromised by their current notoriety for cyber-bullying.
Then again, it sure seemed to work out for Mark Zuckerberg.
Comments? Leave your intelligent feedback down below or consider following CollegeTimes on Facebook or Twitter to stay updated or to get in touch!
Share This Story: