Video: California College Students Sign Fake Petition To 'Execute' Gun Owners In 'Concentration Camps'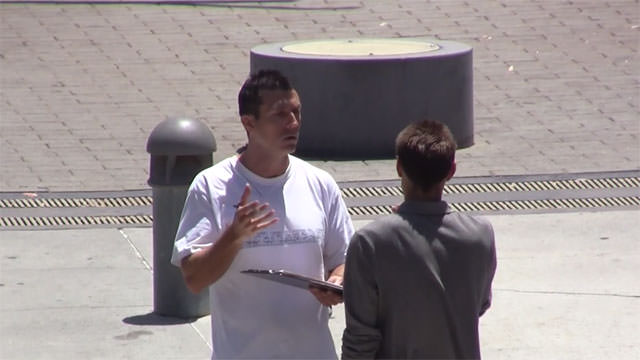 California college students want to murder gun owners.
At least, that's what many of them verbally agreed to while signing a fake petition created by Mark Dice, a self-described 'media analyst' from California, that called (in part) for going "door to door" and repossessing all privately-owned guns before sending the gun owners to "concentration camps" in an effort to "keep everyone safe."
The video, shot at San Diego State University shows Dice approaching college students and asking them to support a variety of outlandish items, focused around "repealing the Second Amendment." Admittedly, Dice tried to make his cause sound as ridiculous as possible to see how far young American scholars are willing to go when pressured into supporting authoritarian, 'Big Brother' types of legislation.
"These peasants don't need guns," Dice stated at on point, adding "We want to put all registered gun owners in prison," to which one student replied, "Yes! It's too dangerous," before he quickly signed the fake paperwork and walked away.
On the YouTube page for the video, Dice explained, "I fill a petition with over a dozen signatures in about 15 minutes. I only show about half of the people so the video isn't too long and redundant, cuz you get the point after a few minutes. In many cases 80% of the people who I ask, will sign."
Dice's shocking comments did not seem to garner much reaction. "It's just a simple repeal of the Second Amendment and we'll be terminating and executing all of the gun owners," he told one student. To another signatory he explained, "We'll do door to door confiscations, we have lists of all the registered weapons, so the military will just go and take those away from people."
Eventually, Dice found a skateboarder who seemed unsure of the petition. "We need to take these gun owners and put them into FEMA concentration camps to keep everybody safe," Dice told the young man, who replied "well I agree with you there, keep them safe." However, the student refused to sign "something I don't know anything about."
Altogether, Dice has persuaded Americans to repeal the First, Second, Third, Fourth, Fifth, Sixth, and Seventh Ammendments (as well as the entire Bill of Rights) with political activism pranks, which are all viewable on his YouTube channel.
Mark Dice is a media analyst and political activist who gets people to question mainstream media, political corruption, and social issues. You can connect with him on Facebook or Twitter or search his various books for sale online.
Comments? Leave your intelligent feedback down below or consider following CollegeTimes on Facebook or Twitter to stay updated or to get in touch!
Share This Story: