Video: Russian Teen Hangs From Skyscrapers With Only One Hand – Pushes Limits Of 'Urban Sports'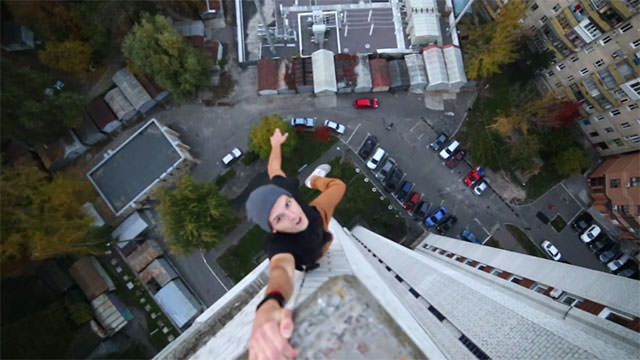 If this doesn't make your stomach churn, there probably isn't much that will.
In the latest compilation video released by Mustang Wanted – a young Russian man who performs urban stunts with a GoPro camera – the daredevil is seen performing outrageous new tricks on various structures including hanging off the edges of skyscrapers with only one hand, and doing sets of pull ups on a massive construction crane.
So far, Mustang's favorite hobby has brought him to cities across Russia, Ukraine, and Germany, though he hopes to visit other countries too.
"Fear doesn't exist. And I'm not afraid. Death – is not the worst. Everyone dies but not everyone lives the way they want. You can die anywhere at any time. If you afraid of everything, you must live in a sterile laboratory," Mustang says on his evermore popular Facebook page, where he engages with his many fans from around the world with anecdotes from his adventures (for example, being arrested by Russian police for scaling an historic building in Moscow and being fined 500 rubles – around $15 dollars – and dropping his smartphone from the top of a building during a separate climb).
Mustang is not the first to perform such extreme 'urban stunts', many of which can be traced in part back to the Parkour movement, a form of 'urban sport' often compared to military-styled acrobatics that gained popularity in France in the 1990s and 2000s, which has in turn inspired many new niches such as Freerunning.
But perhaps what sets Mustang apart from many others is his strong affinity for social media, which has helped him to develop a rather large and mysterious persona on the web. The young man has garnered thousands of followers across websites such as Facebook, Twitter, YouTube, Instagram, and Vkontakte, the "Russian Facebook" site. He also often meets up with other like-minded daredevils such as James Kingston – an urban climber from the United Kingdom with a large following – among others, in a way that seems to generate an ever-increasing fanbase and synergy for the lad.
As various forms of 'urban sports' continue to grow in popularity, Russian youths seem to have carved out a stronghold in the scene. At the time of this writing, a YouTube search for "Russian Parkour" generates over 92,000 results on the video site.
Update 1/20/2014: Our team was finally able to get in touch with Mustang and discovered his real name is Grishka, and he is originally from Kiev, Ukraine – NOT Russia.
Update 1/21/2014: Reddit mods Joecracko and rogueoperative have directed us that the emerging 'urban sport' practiced by Mustang Wanted is recently referred to as 'buildering' or 'urban bouldering' more than other terms mentioned in our article.
Comments? Leave your intelligent feedback down below or consider following CollegeTimes on Facebook or Twitter to stay updated or to get in touch!
Share This Story: