Glen Allsopp: How 'ViperChill' Lost All Credibility
For the past several months, I'd been considering writing an article about Glen, a rather well-known "internet marketer" from ViperChill.com. Last week, after seeing his latest email newsletter in which he partnered with Alex Becker to promote a rather seedy product to thousands of webmasters – only weeks after having criticized a related product via Twitter – I called him out via email and invited him to an interview, noting that he had apparently disabled comments on that blog post in an attempt at censorship. Glen refused, insisting that he "uses the product" and it's "changed the way he does business" and that I was only "insulting" him out of jealously (etc). He concluded, "Feel free to write whatever you like. I'll be sure to forward it to people who ask why I don't answer emails anymore." I finished by asking, "What happened to the old, honest Glen? Flashy car photos, bullsh*t products, and Alex Becker… Glen 2.0… an email marketer who doesn't answer emails? That pretty much sums up the industry." I privately confirmed with Glen via email, twice, that he was not willing to answer any questions for this article. I always believe in giving people the chance to publicly explain themselves, but apparently Glen has nothing to say, which is rather tell-tale (see bottom).
Update 11/24/2014: It looks like Glen has pro-actively removed me from all of his email mailing lists. At least one website has already removed a glowing recommendation of Glen's resources because of this article. My intention was not, and is still not, to create bad blood. In the spirit of debate and conversation I encourage thoughtful discussion, and not black-listing, etc. Anyway, cheers ~
Update 7/9/2015: Charles Floate, the increasingly well-known blogger behind GodofSEO, responded to this article in a passionate blog post of his own. Earlier, I had had a friendly Facebook exchange with Floate after noticing he was promoting Glen's recently updated Marketing Inc 2.0 courses, a follow up to the online series that I had encouraged Glen to pursue and which partially influenced my LittleBizzy relaunch.
Update 4/11/2016: Looks like this piece is spiking again, so I should say that I recently had a guest post on MaxCDN's blog about how to launch a high quality web hosting business and I mentioned Glen's Marketing Inc project (again) as part of my inspiration. I will always oppose some of his bad decisions mentioned below, however ;)
—
Is being critical of one of the web's 'top' internet marketers wise?
That depends, I suppose, on your moral convictions. As Sergeant Landsman sternly asserts in The Wire, "It's all about self-preservation, Jimmy. Something you never learned."
Well, I just so happen to be more of a McNulty fan, in the end.
If there's one thing I hate in the digital age, its the virtual dicksuckery that now pervades the SEO and internet marketing industries in a way that so perpetuates quackery that nobody seems willing to call a duck a duck. And while I could (perhaps later) address multiple examples, today's post is about calling out Glen Allsopp of ViperChill, one of the most followed internet marketing "gurus" online.
The Decline Of A Once Great Marketer
I have followed Glen for several years now, along with a multitude of other marketing bloggers. Despite my skepticism about most of his fly-by-night "products" and my disagreement with many of his opinions, I gave him the benefit of the doubt because so many people seemed to respect him and his case studies. And, over the years, I can say that Glen genuinely inspired me, either directly or indirectly, in some of my own personal thought processes. Don't get me wrong – Mr. Allsopp is a clearly intelligent individual, who is a more or less likable character among many in the blogosphere (and for what it's worth, I rather enjoyed his recent Marking Inc. video series).
Unfortunately, Glen seems to be backsliding. In recent months he has:
In fact, Matt Cutts, the now (in)famous leader of Google's Web Spam team, even made a rare public jab at black-hat SEO "hype" promoters like Glen, calling them "used car salesmen who won't show you their cars." Ouch.
Making Money From Selling False Hope
This is not an anti-Glen Allsopp piece, or an anti "internet marketing" piece. This is an anti "pretending to offer real world value when all you do is make money from re-packaging false hope each month to a new crowd of desperate online newbies" …piece.
See also: Screwing Newbies: Why New-To-Market Webmasters Are Easy To Scam, And Why It's Such A Big Problem
There are dozens, if not thousands, of "gurus" who do this on the web, and Glen is nowhere near the worst. In fact, its been a cornerstone of internet commerce since the beginning, with communities like Warrior Forum, Digital Point, BlackHatWorld, and others churning out bullshitter after bullshitter with absolutely no end in sight. Generally speaking, these bullshitters rely completely on the likes of ClickBank, and other digital affiliate product markets that have very lax standards when it comes to fraud. They then, sometimes with the help of others, hype the hell out of certain products, censor any critical feedback, avoid conversations with non-newbies who see through their bullshit, and make a good bit of money (sometimes) from all the clueless desperate people who purchase their get-rich-quick software "products" – which often involve black-hat SEO (although, in recent years, this approach has shifted more toward "online courses" and "members only" forums in place of traditional eBooks and software.)
Glen's latest promotion, Source Phoenix, is yet another box of re-packaged false hope developed by Alex Becker, who got together several other internet marketers to help him hype the hell out of it in order to avoid criticism from competitors – that way, "hype" is maximized, and "affiliate" profits are shared all the way around. (Source Phoenix is yet another hype-promotion involving PBNs, a black-hat SEO tactic frowned strongly upon by Google, which has gotten thousands of websites banned – it also takes significantly more time and money than affiliates would have you believe.)
See also: Adding Value: The Difference Between Adding Real Value To The World Vs. Simply Emulating Success
And while every emerging webmaster/marketer/human being could be expected to dabble in shittiness from time to time – especially when starting out – people like Glen Allsopp are old enough and experienced enough to know what they are doing is simply ripping off newbies who desperately want to find some success on the web.
Glen Allsopp Tactics In A Nutshell
As far as making money on the web goes, there are generally two types of people:
1. Those who start out hyping "crap" and evolve to selling something of value
2. Those who start out hyping "crap" and several years later, are still hyping "crap"
With all due respect, Glen currently falls into the second category. Despite his shining "case studies" on ViperChill, he continues to regurgitate the same iterations of ripoff black-hat SEO products and Super-Secret VIP Members-Only Clubs! despite it all ultimately coming back to him promoting his high-risk PBN backlinks (etc).
But if developing a micro-cult following online is your biggest goal in life – rather than, say, launching a successful eCommerce store, leveraging digital marketing for real-world business, or finding ways of adding true value to society… then here are some steps you can take to emulate "used car salesmen" on the web:
1. Project Superiority, Always. Become totally immersed in condescending language with every single email you write, comment you make, or discussion you have. Use patronizing phrases like "glad it helped you, bud" to remind every conversation of your self-importance. Like an alpha male on a reality TV show, establish yourself as intellectually superior, overly reasonable, and profess the success of your "followers" as your top concern. However, if anyone challenges you or criticizes anything you say, cut them off immediately, and move to item #2.
2. Pretend You Don't Care. Combining your bloated ego (above) with a sense of indifference is a lethal combination. In fact, its the same psychological approach used by the 21st-century man-children who call themselves Pick-up Artists (PUAs) when they harass troubled girls with daddy issues down at the local bar – except in this case, you are targeting needy young webmasters looking for an online father figure. Respond to any and all criticism with reverse-psychology phrases like, "No worries if you don't want to follow me after this" (quote via email).
3. Act Like Everything You Do Is A Favor. I've spent the better part of a decade devouring news, blogs, and the like online, and never have I come across others who can so cleverly make everything they do seem like a gift from Christ above. This is clearly not something that guys like Glen learned on Warrior Forum, but rather something that comes naturally to a select few. (If guys like Glen or "Becker" were born a century earlier, they'd be selling snake oil tonic up and down the Mississippi River.) In fact, the first thing Glen said to me when I asked him why he was promoting scam-ware was "What's your problem, bud? I've replied to your past emails!?" (drastically paraphrased).
4. Master The Art Of Subtly. Best reserved for a future article, but suffice it to say that the only way you'll be able to accomplish #2 and #3 is by way of subtle, subconsciously-manipulative language in a controlled environment.
See also: The Art Of Subtly: How Speaking In Understatements Garners More Respect, Adoration From The Crowd
5. Control Your Environment. Something that most IM'ers like Glen understand well is the power of groupthink, or "crowd" mentality. The fastest way they can maximize hype and create a false sense of celebrity is by controlling what their audience is exposed to. Specifically, only blog comments that worship and adore them are typically accepted, and receive an immediately reply that simultaneously A) "encourages" the person commenting and B) condescends to the person commenting (reinforce #1, always). Very little interaction takes place on public forums or any environment which such "hype-artists" cannot control, which is another reason they LOVE email lists so much.
6. Create Fake Celebrity. A surprisingly easy thing to do on the web, where nobody knows you from Adam. Making yourself look more famous or successful than you really are is a guilty pleasure of most netizens, if we are being honest. If you are Glen, you post The Guardian newspaper's logo all over the place making it look like they've endorsed your marketing services, despite you having reached out to them several years earlier as part of a "who's traveling the world and making money online?" survey. But hey, if you've got it, then use it — it's not like… anyone's going to track down those articles…
(If all else fails, take a cue from Glen and put logos from the likes of Reuters, Forbes, etc. on your site, and pretend like news corps around the world are talking about you. And for the record, when guys like Glen say they've done marketing for "Fortune 500" clients, its bullshit, as large corporations NEVER hire rogue marketers. Most any SEO who's worked with agencies in a developing country – i.e. South Africa, as Glen did – has done work on behalf of Fortune 500 subsidiaries as part of that agency's client base. Or, feel free to call up Land Rover and ask them if they've heard of Glen Allsopp.
7. Create A Sense Of Mystery. Probably one of the only items on this list that I still quite respect about Mr. Allsopp is his unique ability to create mystery. With every email he sends or blog post he carefully constructs, Glen has a keen ability to make you feel part of something grand, something that the rest of the world is missing out on. Take for example, his Private Inc. email list for black-hat SEO backlinks — despite Google's Web Spam team clearly knowing about the list and Glen's sprawling PBN network, you can't help but want to know more about this minimalistic wonder: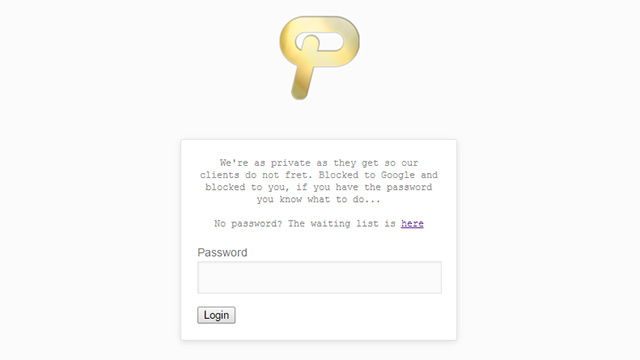 8. Churn Out New Crap Every Month. The problem with "hype-artists" is that after they've been in the game too long, its the only business model they know. In fact, they've built up such a facade online that by turning to anything else, they would literally have to tear down years of carefully constructed bullshit, and admit the truth to themselves. Obviously, that becomes a lot harder after you're into your late 20s, 30s, or even beyond, which is why guys like Glen are still putting crap up on ClickBank, recycling eBooks and video courses and "nich affiliate" products year after year.
9. Create Artificially Low Supply. Economics 101: When there's not much demand, the only option you have is to create less supply. Companies like Apple and Nintendo have been doing this for years during new product launches so that pre-order queues and launch hype is maximized (nothing helps sales more than the Wall Street Journal screaming, "Nintendo Wii sold out, factories 'rushing' more deliveries.") The first email you get after signing up for Glen's Private Inc. list literally says "Please Unsubscribe from the Waiting List" as subsequent emails go on to explain how the team only "accepts" new clients once a month to deal with the massive "demand"… but don't worry, says Glen, this is not hype!… He is just seriously too busy to accept new customers… except maybe now… or NOW… or… why haven't you ordered any backlinks yet!? :)
10. Rub Elbows With Well-Knowns. Last but not least, attempt to associate with reputable people in the industry, i.e. Rand Fishkin, on his own website, inbound.org, even just days before you insult him on your own blog. (If that doesn't work, try shooting the s**t with Brian Dean, or other high profile white-hat SEO guys.) In fact, blatantly copy website features from Pat Flynn's homepage, since he is your idol, and maybe readers will get confused and think you haven't made your cash by scamming newbies when they look at your income reports and listen to your Pat Flynn-esque podcast on iTunes.
In conclusion, I humbly implore Mr. Allsopp to return to his "roots" as a down-to-earth marketer, promoting quality products, while keeping in mind the thousands of young webmasters that look up to him. After all, it was his younger self with the best advice:
"Don't be an internet marketer for the ego. I think at times we all love to share how good we are but it is not about how many visitors you can send but the results you can get from those visitors in terms of subscribers, buying products and clicking on ads. If you want to get in this space because you want to appear like you know it all and get some e-fame then you are wasting your time, but if you really want to help people get traffic to their sites then I fully respect that." – Glen, 2008
Anyway, so here's my bet: Without any help from PBNs or black-hat SEO, I'll rank this article at the top of Google for terms like "Glen Allsopp" and "Glen Allsop" and "Glen Alsopp" and "ViperChill" and "Viper Chill" to prove a simple point:
"Every link I've managed to build has come from nothing but: Writing excellent content, Engaging in my niche, Repeating what works." — Glen, 2009
But don't take my word for it… I'm just some hack writer with an axe to grind.
Comments? Leave your intelligent feedback down below or consider following CollegeTimes on Facebook or Twitter to stay updated or to get in touch!
Share This Story:
Page ID #59718 - Last updated on Tags:
Backlinks
,
Blogging
,
Digital Marketing
,
Entrepreneurism
,
Glen Allsopp
,
Internet Marketing
,
Marketing
,
Online Marketing
,
Private Blog Networks
,
Scams
,
SEO
,
ViperChill