Interview: BFMin, Korean Graffiti Artist From Seoul, Talks About His Inspirations, Challenges, & Hip Hop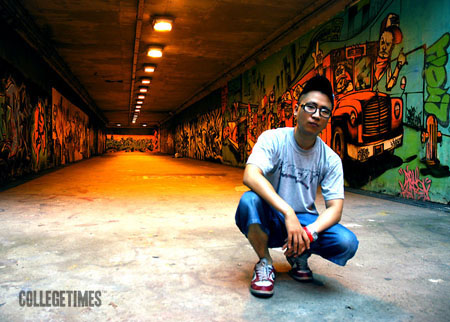 BFMin poses in front of a tunnel in Apgujeong, Seoul, Korea. He was among the first well-known graffiti artists to emerge in Korea in the late 1990s.
A.K.A. "Case Study in Korean Hip Hop Culture" – Interview with BFMin, a professional graffiti artist from Seoul, Korea
July 2007
As hip hop music and culture spreads around the globe at an increasingly rapid pace, it has caught the attention of various academics and researchers. Why hip hop? Why now? Where and how did it begin?
It is largely agreed that modern hip hop culture has most of its roots in the United States, born out of various contributing elements such as black-American identity, minority outcries, poverty, inner-city society, and youth movements. But when we look at hip hop culture in other nations, there is not necessarily a parallel history in its makeup.
In Korea, the largely homogenous population finds itself in a completely different situation. While old maxims like "art is not peace, but war" have often been used to explain hip hop culture in America, the researcher observes a completely different attitude taking shape in Korea within the last decade as hip hop culture has developed into an American-influenced but uniquely-Korean way of life.
It has been said that our evermore globalizing world is taking more and more humans out of the picture of interaction between communities and societies. This emerging "information society" is said to disregard inequality, social hierarchies, and cultural structures as the internet becomes the ultimate, unconditional, global distributor of said information.
When we consider this in light of hip hop culture, such as music, break-dancing, or graffiti, it can both explain why hip hop has spread so rapidly around the world and also why it instigates so much social hesitation. In Korea, a nation considered among the most Confucian in the world, hip hop has seen many different reactions from the public. It has only been strongly integrated into popular Korean culture for the last 5-10 years at most (as opposed to at least 20-30 years in the United States) as the so-called "Korean Wave" began to catch on.
BFMin, a graffiti artist now well-known within the Korean hip hop community, was among the first big names to emerge as part of this late-start movement. I sat down to interview him in July of 2007 to find out what his inspirations and perceptions might entail in regard to hip hop culture, and to shed some light on the fascinating changes that are taking place within East Asian popular culture.
Do you consider yourself a graffiti artist? For how long have you been involved with graffiti? Do you always sign your work in the same way?
Yes, I consider myself a graffiti artist. I've been into it for about 8 years now, on and off. I had to take breaks at times due to mandatory military service and other things. I always sign my work in English as BFMin, unless I work on a piece with other artists, than we usually sign our work using our different signatures.
How would you define graffiti? Do you believe your work is part of a so-called "global hip-hop culture" or not?
I largely see graffiti as a set of painting techniques that represent an individual's artistic expression. There are 3 main types of graffiti designs: character pieces, realistic pieces, and text pieces. I most often do text pieces, of which there are 4 styles: 2D, 3D, Wild Style, and Old School. I love Wild Style the most, which involves very colorful designs. I have a personal theme that I like to involve in my work – the butterfly. That is where I derive my name from: BF stands for butterfly. I try to convey the character of a butterfly when I do my work – things like freedom and bold expression. I want to be able to freely express my ideas and feelings through graffiti. Many people see graffiti as one of four main pillars of hip hop culture. I agree with this to an extent, but for me personally, graffiti is mostly a personal pursuit of artistic expression. My perception is that in places like the USA and Korea, maybe graffiti is more readily seen as hip hop culture, but maybe in some other places like Europe, it is less defined and might be seen as more of an artistic expression.
What attracts you to graffiti? Who is your audience? What is your purpose and what inspires your designs and/or messages?
When I was younger I observed some of my friends start to get involved with graffiti. It was not a very well-known culture in Korea at that time [late 1990s], and it especially lacked a recognized connection with hip hop in general. So I guess it became for me just something that I could use for self-expression. It's not that I was especially passionate about hip hop or graffiti in themselves, but rather that I suppose I wanted something to invest my energy into, and graffiti was there. I guess my audience is anyone that happens to see my work, even though it's largely for myself in a certain way. I'm inspired by music and other art that I see. I also hope to inspire new art and new music through my own work. Again, my inspirations are not limited to a so-called "hip hop culture" or "hip hop music" and I hope to inspire more than those involved in such a culture.
How did you learn the methods/ideology of graffiti? Were you influenced by any mentors, movies, music, or documentaries in particular?
I am influenced by everything around me in this world. My work is surely influenced by many factors even if I don't realize it. I am completely self-taught, though I've spent a lot of time practicing with various friends. Graffiti methods in Korea are very limited in certain ways, compared to other countries. For example, there are only about 40 spray paint nozzle types available in Korea. In the United States, there are hundreds of can nozzles available. So really, a lot of what we accomplish is spurred on by our own determination and passion. I'm not sure if I consider him a huge personal influence, but I greatly respect a German graffiti artist called Daim and really admire his work. Sure, I'm influenced to an extent by various things I see in movies and what not, but nothing stands out in particular. My favorite American hip hop music artist is Warren G.
Much of the hip hop/graffiti movement started in America and was inspired by poor minorities seeking individuality and recognition. Different crews and gangs often compete for the attention of the public and/or each other. How would you compare this with graffiti/hip hop culture in Korea? Is it more professional or an entertainment/popular culture in Korea?
When you talk about gangs in Korea, it refers to organized crime. We don't have the type of territorial gang culture that America has, and we don't have many different racial backgrounds either. Even when you look around the world, most of the famous graffiti artists are in fact white guys. Yes, I do think that hip hop and graffiti are more of an artistic form in Korea, and a form of entertainment as well. In Korea, there isn't a huge sense of competition between us graffiti artists. I think we have been attracted to these cultures for some different reasons than some Americans. For example, I was largely influenced by typography (which I studied at Kook-min University as part of my art major) and Asian alphabets in many of my pieces. So I think graffiti has definitely taken on a different nature in Korea. Walls that have been tagged do get painted over sometimes by certain artists in Seoul, but it's not because of territory wars or anything like that. It's mostly because we run out of space, or want to create a new piece. I don't think that certain Korean citizens feel "left behind" and pursue graffiti as some sort of outlet, like in America perhaps. Korean hip hop cannot be the same as American hip hop because the character of the Korean people is to unite, and not to compete against each other like in the United States.
You do work in both public and private spaces – sometimes paid and sometimes not. Do you find this conflicting for graffiti culture? Does graffiti need an element of illegality or non-commercialism to be true to itself? How do you think graffiti differs from other art forms?
For a while, nobody in Korea really cared about graffiti in public. But recently, the government has officially made it illegal to paint on public spaces, and more citizens have begun to complain about it. I am personally attracted in certain ways to the illegality of public graffiti, though I try to paint on places that are easy to reverse if they decide to get rid of it. But ultimately, I try hard to make my pieces very attractive so that no one wants to get rid of them! I think you can compare it to a child drawing something on a wall – he loves to express himself, and so nothing can stop him. I do think that the true idea of graffiti is when it is created in public places and perhaps in an illegal way. But it's quite hard in Korea to limit yourself as a graffiti artist in this way. It costs a lot of money for one thing, and also there are not very many good public spaces to work with. So why not earn money from hired pieces instead of wasting money all the time on public pieces? That is my mentality. In fact, I think by trying too hard to restrict graffiti to public spaces it limits me as an artist. If I only painted in public spaces, than I would lose out on many opportunities. For example, I recently painted one of the only hotrod big rigs in Korea that belongs to a famous Korean rock band, and I've also done pieces in Korean music videos. So why not use my artistic skill as a source of income? Is it any different than Tupac hiring someone to do a piece for one of his own music videos? Sure, it sometimes forces me to give up certain elements of self-expression when I have to cater to a customer, but I'd rather give up certain artistic elements and still earn money doing what I love than choose another source of income and give up all my artistic opportunities. I think all art shares a similar nature regardless of its form. Music, dance, fine arts – all of these share a fundamental purpose of expressing something in their own style. Only the materials that make up these art forms are what make them different.
In Korea, a lot of hip hop culture seems more professional and less rebellious than other countries (BBoy break-dancing shows, the government-sponsored Haja Center for Alternative Culture, less controversial hip hop music, etc.). How does this affect you as a graffiti artist in Korea? Do you feel connected to these other realms of Korean hip hop culture?
I feel connected to these things in certain ways. It's true that BBoy dance culture is very popular in Korea right now. At many performances, they have graffiti artists doing pieces on the side, so there is definitely some sort of connection. Overall, I do think that hip hop culture is less rebellious in Korea than other places, especially in America. I am personally glad that Korean society has been accepting of hip hop culture. I don't think that hip hop culture must be rebellious in order to be real. Perhaps global hip hop culture is evolving to be less rebellious as it becomes more popular; I don't have a problem with this at all. I think one of the reasons that it has become so rapidly popular in Korea is because Koreans have observed so much talent in these various realms. We don't have tons of kids going around tagging up everything in Seoul just to annoy people, like in some American cities. However, I do think a certain element of rebellion is part of hip hop culture and always will be. I still carry around markers to throw up quick tags here and there, which annoy some people. But I think the difference in Korea is that so much attention has been given to the talent involved, instead of lumping it all together as a crazy, ugly, illegal culture that needs to be dealt with.
How has the internet affected your work? Is it a large source of influences for you? Does it provide you with a larger audience? What do you use your website for?
Much of what I study in regard to graffiti comes from the internet, so I think I can say that without the internet, graffiti in Korea probably could not have developed into what it is today. After all, the internet is responsible for introducing me to certain painting techniques, and to many of the artists that I admire, such as Daim in Germany, who I otherwise would never have heard about. I suppose it brings me a larger audience to an extent, though it's not really my main purpose for being involved on the internet. I have been featured on various well-known graffiti communities, such as Graffiti.org. I have also begun experimenting with web graphics and things like Flash animation. I guess my website is really just an easy way to maintain a gallery of my work, and I do hope that many people can be inspired by it around the world.
What is your impression of current mainstream hip hop culture in America? Has it become too commercial? Do you see graffiti as a part of this mainstream or as some sort of underground savior?
Well, again, I don't have a problem with hip hop culture or graffiti becoming mainstream or sold in various consumer products. I'm fine with how hip hop culture is evolving to become more of a pop culture. American hip hop does seem much more controversial in regard to sex, drugs, violence, etc. – I think it's okay to an extent, as a form of entertainment. Ultimately I think people who want to pursue those types of things will do it anyway, so I think to have some of that in products or entertainment is okay. But if some of those things in American hip hop are a reflection of real life in America, I don't think I would like it!
Comments? Leave your intelligent feedback down below or consider following CollegeTimes on Facebook or Twitter to stay updated or to get in touch!
Share This Story: