Webster University Thailand: Rampant Corruption, Fraud Put Blemish On Growing International Brand
Author's Note: Journalism ethics often call for 3rd-party dissection of information and experiences in order to provide a non-biased view of a story. In this case, due to my personal involvement with Webster University : Thailand, such pure dissection is not possible at CollegeTimes. I have done my best to present a balanced perspective, including interviewing multiple current and former students and faculty from the WUT campus. This post was also reviewed for factual accuracy by multiple WUT students and faculty before final publication. PHOTO: The current Rector of WUT Ratish Thakur (left) accepts a "Trust Mark Award" from then-Prime Minister Yingluck Shinawatra in 2013 on behalf of the campus, despite WUT having submitted allegedly fraudulent PhD research to the Thai Ministry of Education multiple years in a row in order to renew their university-level Quality Assessment marks.
Update 3/22/2015: Webster University has officially responded to this article by sending out a private letter to WUT students via email (while avoiding all WUT faculty) threatening to sue CollegeTimes. Apparently, WUSTL thought that we would not be forwarded the threatening letter by outraged WUT students…
Update 3/23/2015: Thailand's well-known investigative blogger, Andrew Drummond, and Hua Hin Forum, have both picked up this growing story…
Update 3/26/2015: According to writers at the Webster Journal (the student newspaper at WUSTL), they are being muzzled by WUSTL administrators and have been threatened that their funding will be "cut off" if they cover stories that cast Webster University in a critical light. This water-downed article was the only mention of WUT fraud and corruption that was "approved" by WUSTL administrators.
Update 3/29/2015: Alex Friptu, the Romanian "Online Marketing Manager" for WUT who was responsible for recruiting Ramona Mihaela Paun (see below) to be the new head of WUT School of Business and Technology, just spent 4 hours 6 mins 32 secs spamming our website from his iPhone on a Saturday night. According to WUT sources, he was recently given a part-time teaching position at WUT so that the "Indian Mafia" administrators could reward him with money allocated by Webster for continuing education of (select) faculty. Apparently spamming and slandering our website were pre-requisites to whatever they have promised him…
Update 4/6/2015: In a completely independent development, American students at Webster University : London have launched a protest regarding the illegal withholding of their U.S. federal student aid. In reaction to being told to "apply for private student loans" instead, nearly 200 students have signed an online petition demanding that WUSTL officials immediately disburse their financial aid funds.
Update 4/10/2015: In reaction to this article, Inside Higher Ed published an investigative piece of their own with several additional stories, testimonies, and other evidence of rampant fraud and corruption going on at the WUT campus. In addition, a letter signed by 160+ students from the WUT campus was recently delivered to WUSTL administrators in reaction to the lawsuit threat against CollegeTimes that WUSTL recently distributed to WUT students as an intimidation tactic.
Update 4/16/2015: After ignoring months of emails and phone calls from WUT faculty and students, the St. Louis Post-Dispatch finally decided to mention the WUT scandals after the IHE piece mentioned above was published (although the Dispatch offered zero additional research). It was followed up immediately (strategically?) by a piece acknowledging the "site review report" released by WUSTL a few days ago. We have heard reports that the Post-Dispatch's editorial board has rather close ties with the WUSTL administration and will be following up on this. IHE briefly broke down the report's clear attempt at glossing over serious issues.
Update 5/24/2015: A long-awaited months-long investigation into the WUT campus was published today by the Bangkok Post newspaper. WUT Rector Ratish Thakur has repeatedly insisted in recent weeks to the Post that Webster's Cha-Am campus will be 'moving' to Bangkok in an apparent effort to minimize the reputation damage to Webster that continues to snowball across Southeast Asia.
Update 7/27/2015: Months after WUT Rector Ratish Thakur told the Bangkok Post that the campus would be permanently shutting down – a story that has in fact been rumored for several years – the campus continues to aggressively recruit new students from India and beyond, particularly noticeable via traffic logs maintained by CollegeTimes.
Update 3/22/2016: Well into the 2016 year, it is apparent that WUT has no intention of "shutting down" their campus in Cha-Am despite repeated promises of such to the Bangkok Post newspaper. Instead, they have pushed forward with more aggressive marketing, especially in Bhutan, as measured by CollegeTimes traffic logs. However, we were recently forwarded copies of these three emails showing that WUSTL has begun a massive "budget slashing" campaign across its international campuses, banning WUT from hiring new faculty or staff without approval and ordering them to immediately find ways to contribute to a $1.5 million dollar budget reduction.
English introduction: In late 2014, I saw General Prayut Chan-O-Cha appear on Thai television in a special appeal to anyone watching to help make Thailand a better place. Speaking in Thai, with English subtitles, he asked for residents of Thailand to faithfully report any instances of corruption to his new government. I respectfully submit this article in an effort to expose serious fraud and corruption at Webster University. I hope and pray that the quality of higher education in Thailand can be protected and improved because of stories like this, where dozens of students and faculty have united together in an effort to end years of fraud and threats of violence. On behalf of these dozens of students and faculty, I sincerely thank General Prayut and other members of the Thai government for their dedication to the safety and well-being of students and teachers throughout all of Thailand.
Thai introduction: ในช่วงปลายปี 2557 ข้าพเจ้าได้มีโอกาสเห็นพลเอกประยุทธ์ จันทร์โอชา ทางโทรทัศน์ ในรายการพิเศษที่ท่านมีความมุ่งมั่นในการพัฒนาประเทศไทยให้ดียิ่งขึ้น ซึ่งท่านพลเอกประยุทธ์ ได้กล่าวเป็นภาษาไทยและมีคำบรรยายภาษาอังกฤษประกอบ โดยท่านขอให้ผู้ที่พำนักในประเทศไทยทุกคนแจ้งการทุจริตต่างๆแก่รัฐบาลของท่าน ข้าพเจ้าจึงขอส่งบทความชิ้นนี้มาเพื่อแสดงการทุจริตและการฉ้อโกงของมหาวิทยาลัยเว็บสเตอร์ ข้าพเจ้าหวังเป็นอย่างยิ่งว่าคุณภาพการศึกษาในระดับอุดมศึกษาของไทยจะได้รับความคุ้มครองและพัฒนาให้ดียิ่งขึ้นจากกรณีตัวอย่างนี้ ทั้งนี้ นักศึกษาหลายสิบคนและคณะได้รวมตัวกันเพื่อสิ้นสุดปีการศึกษาแห่งการฉ้อโกงรวมถึงการข่มขู่โดยใช้ความรุนแรงนี้ ในฐานะตัวแทนของนักศึกษาและคณะ ข้าพเจ้าขอขอบพระคุณพลเอกประยุทธ์ จันทร์โอชา และคณะรัฐบาล อย่างสูงที่ได้ทุ่มเทเพื่อความปลอดภัยและสภาพความเป็นอยู่ที่ดีของนักศึกษาและคณาจารย์ทั่วประเทศไทย
—
There is one thing, at least, that nearly everyone at Webster University : Thailand seems to firmly agree on: the school has some serious potential.
Not only is WUT in an area of the world experiencing massive economic growth, but it is – at least, allegedly, anyway – also affiliated with a well-established American university that is both "non-profit" and regionally accredited.
Unending Scandals, Controversy, Threats
But spend a few days on campus at one of two WUT locations in Thailand – either the remote Cha-Am campus (near Hua Hin) or the new Bangkok center – and the scandalous stories begin to flow like rats out of a sewer. During my short time there as a part-time instructor of computer electives, here are a few revelations that I encountered, leading to my unwavering conclusion that WUT is nothing short of a diploma mill:
1) Multiple students have allegedly had their life threatened directly by the Rector of WUT, Ratish Thakur, after they questioned the corruption and fraud happening around the campus. Although the threats were repeated, the most recounted event is from 2010 when members of the WUT student council (SGA) held a private meeting in Thakur's office. During the meeting, Thakur allegedly threatened that students "would be shot" (assassinated by a "hit man") if they didn't stop complaining about the poor quality of academics, facilities, and otherwise at the WUT campus. For the past 5 years, students have struggled to shine light on this shocking series of events to an unsympathetic Webster University : St. Louis (WUSTL) administration. Andrea Eickelmann, the former SGA president at WUT, has helped students submit several in-depth letters to WUSTL, interviewed with the Journal (Webster's student newspaper in St. Louis, who seems to have recently deleted the interview), and even undertook a detailed survey of WUT students to prove that those at the Thailand campus are not only dissatisfied, but thoroughly "frightened" by what they encounter there:
2) According to members of WUT's Academic Committee that spoke with me, Academic Director Nisha Ray-Chaudhuri has been submitting fraudulent "research" to the Thai Ministry of Education for multiple years in a row in order to renew WUT's "university-level" Quality Assessment ratings from the Thai government, which requires ongoing PhD research to be performed. Ray-Chaudhuri alleged to the Committee that she received direct instruction from Thakur on how to carry out the fraud, including submitting research that had been completed by other Webster University campuses, changing the names on certain research projects, re-submitting old research papers, and submitting the names of "full-time" faculty that do not work at the WUT campus. Interestingly, even with allegedly fraudulent research being submitted, the Thai QA system still concluded that WUT has an extremely poor rating in terms of full-time faculty and overall research activity. Specifically, for the "15" full-time faculty that WUT claims to employ, only a mere ฿7,495 THB (approximately $230 USD) is apparently budgeted for each "researcher" per year to carry out their mandatory university-level research, resulting in a score of just 1.4 out of 5 possible points for the WUT campus in that category:
Yet, according to the QA, despite WUT conducting almost zero research, having very few full-time faculty members, and having extremely poor graduation rates, the final overall QA rating for WUT somehow managed to be 4.59 out of 5 total points. This comes on the heels of the Thai government seriously considering a total annihilation of the entire ONESQA system after years of dysfunction.
But it gets even worse – not only has WUT been committing "research fraud" for several years, the campus has also been hiring faculty with falsified credentials:
"We use people's names who do not work full time or even part time at WUT, there is [research] publication credit given to WUT when the person writing it lives in Florida, for instance… Bruce Keel was another person who was let go at WUT, but then he returned. During the last rebellion/uprising in 2010, the "troublemakers" determined that the school giving his doctoral degree did not recognize his name on a list of persons actually earning a degree that year. In other words, he claimed to have a degree he didn't. He was promoted to Academic Director, but all he did was make coffee. He ignored the long list of items he was supposed to do… Nisha [Ray-Chaudhuri] lists her degree as a DBA, but she added a "ABD" after it, which nobody does in academics. There is a mindset that we need to do whatever sneaky things we can to fool the Thai accrediting bodies, partly because they don't understand academics either." — Current WUT faculty member
Then of course, there's the story of "Dr." Edward Roy Krishnan, a scam artist from Malaysia with multiple "doctorate" degrees he purchased from diploma mills. Guess which Thai university hired him without a second thought? That's right, WUT. There's also the new "director" of WUT's School of Business and Technology, Ramona Mihaela Paun, who claims 1 Phd, 2 Masters, and a Bachelors from Bucharest Academy of Economic Studies, along with a Phd and Bachelors from the University of Gothenburg. Strangely, she achieved this impressive amount of six different degrees at the same time she claims to have held full time jobs at JCI Romania, a Romanian non-profit organization.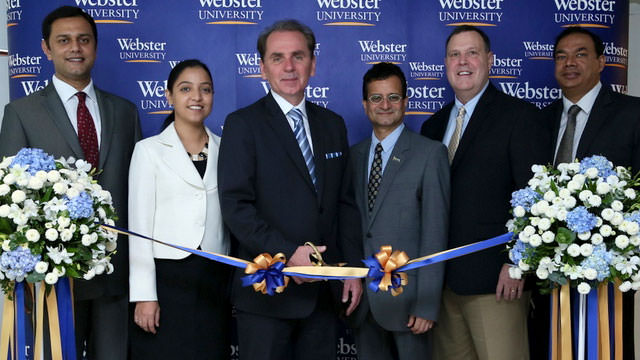 PHOTO: Julian Z. Schuster, Provost of Webster University in St. Louis, attends a 2014 groundbreaking ceremony for the new WUT location (a rented office building) in Bangkok. Standing with him is the so-called "Indian Mafia" administration, along with Phil Gwaltney (Student Affairs Director), an apparently "token white guy" whose job is to stop students from smoking on campus, among other trivial tasks.
3) According to multiple current and former faculty members, WUT administrators – commonly referred to as "The Indians" or the "Indian Mafia" by WUT students and faculty alike – maintain two separate financial accounting records; one that they show to Webster in St. Louis, and another that they keep for their own purposes. Over the past several years, this group of Indians have allegedly "borrowed" millions of Thai baht from WUT student tuition fees for personal travel and living expenses, and for their own higher education (i.e. PhDs in France), without any approval or acknowledgement from the rest of the Webster community. The below three documents provided to CollegeTimes by multiple sources show rather indisputable evidence of extensive financial "borrowing" carried out by Ratish Thakur, Nisha Ray-Chadhuri (now married to Samrat Ray, the Director of Marketing at WUT), and James Jain, all of whom are Indian nationals working in Thailand (and 3 of whom previously attended and later worked together at Samford International University in Hua Hin):
"It is obvious to everyone that Ratish rakes in his money every month while denying funding to so many others, even for legitimate purposes. I can only tell you from direct experience. He doesn't document these kinds of things anyway. Executive committee decisions are simply edicts issued by him, and all the others simply go along. There are typically NO DOCTORATES on the [committee]. Some members post photos of their "retreats" at luxury spas/resorts including the bar area, pool, bedroom, etc. People were asked to nominate individuals but in fact some were simply expected to join, qualified or not." — Current WUT faculty member
During my short time as an instructor at WUT, dozens of WUT students also claimed that various "fees" were regularly billed to them without any explanation, including a "General Fee" of $760 that did not include any itemization. Some of my American students, who must transfer their U.S. federal financial aid via Kasikorn Bank in Thailand, also alleged that they often must wait several weeks for their financial aid to be disbursed, plus pay disburment "fees", both of which are a violation of U.S. student aid regulations.
One WUT student shared emails with me showing how, despite his plans to withdraw from WUT after December 2014, his Connections (WUT user account) was placed on hold after he was suddenly told he owed the school ฿2,000 THB from past "bank transfer" fees from up to 2 years earlier. After his account was locked, he was unable to officially withdraw from the Spring 2015 term, and thus his Spring courses "began" despite his already having left Thailand. Now, WUT is claiming that he owes both a non-refundable "General Fee" and "Media Fee" totaling ฿31,000 THB (approx. $957 USD), otherwise Webster's St. Louis campus will not unlock his account and course records.
Update: 3/24/2015: Multiple students have discovered that WUT has been charging students a ฿25,000 THB "General Fee" (managed by James Jain, the WUT Director of Finance, who is from India) even when they are "studying abroad" at a different Webster University campus. No other Webster campus does this.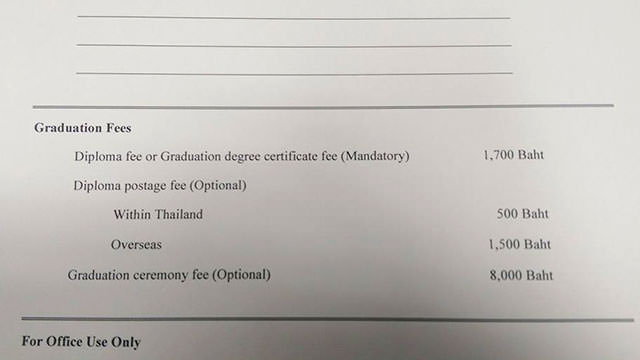 PHOTO: Despite graduation only costing $75 at the WUSTL campus, recent bills sent to WUT students totaled over ฿10,000 THB (more than $300 USD). UPDATE: immediately before this article was finalized, I was informed that enough WUT seniors had organized a boycott of the 2015 graduation ceremony that WUT was forced to drop the cost back down to its original price of just ฿3,000 THB; days later, the WUT went a step further and decided to "waive" the graduation fee completely.
4) During the fall term of 2014, Webster's St. Louis campus sent over a "Campus Review" committee on multiple visits to the WUT campus allegedly to seek feedback from faculty/students on how WUT might improve; interestingly, very few faculty or students were actually made aware of the review process. According to members of WUT's Academic Committee, Thakur was invited to a secret meeting off-campus with Julian Z. Schuster – the WUSTL Provost and COO – before the review process began, allegedly to reassure Thakur that St. Louis fully supported him and that the Campus Review process would not endanger his current position. Although WUT did not make any real effort to announce the Campus Review process – including burying an announcement memo prepared by WUSTL – I sent multiple emails to St. Louis administrators to inquire about the process on behalf of my students, who feared they would face backlash at WUT for any feedback they provided. Despite initial promises to the WUT student council that feedback would be "completely confidential", Nancy J. Hellerud, the Vice Provost of WUSTL and a licensed attorney in the U.S., finally replied to my multiple inquiries with a significantly different and intimidating answer:
"Yes, we have received your e-mail. Information sent to the committee and the names of those who submit information will be treated as confidential to the extent possible, but we cannot promise confidentiality. If policy or law dictates that information be disclosed, we will do so." — Nancy J. Hellerud, WUSTL Vice Provost
I had to personally inquire with WUT students and department heads multiple times to confirm the time and place of the "Campus Review" faculty meeting, but finally found the location at the WUT campus on 11 November, 2014. The meeting, which was hosted by WUSTL Vice Provost Nancy J. Hellerud, was only attended by around a dozen WUT faculty members in total. For the better part of 2 hours, Hellerud – fully taking on the part of an "attorney" – talked over and interrupted the attendees, making a clear effort to steer conversation away from more serious topics. Toward the end of the meeting, I confronted Hellerud over corruption and fraud allegations, and let her know to her face that one of my students' lives has been apparently threatened by Thakur, as she had refused my earlier phone call attempts to the United States. Without any reply, she quickly canceled the meeting and walked away, fully uninterested in the fact that student lives were in possible danger at the WUT campus (@ 2:05-2:14):
At one point, Hellerud responded with vague reference to financial problems at WUT, possibly alluding to the fact that the St. Louis campus is well aware of and/or enabling the alleged corruption going on, believing it is "out of their control":
"Frankly, its interesting because the idea of 'profit' is everywhere, and we're not profitable, frankly… but what we, as an organization, have to think about, is there are things we cannot control… and some of those are things you have to 'pay' people… it might be benefits packages… but, you can make some assumptions." – Nancy J. Hellerud, , WUSTL Vice Provost
If St. Louis is indeed aware of ongoing corruption being perpetrated by WUT representatives, especially related to bribery of officials or other entities in Asia, it would be a direct violation of the Foreign Corrupt Practices Act of 1977.
5) Several faculty members at WUT have been the victims of contract fraud and/or withheld salary, often being forced to teach courses without pay or being promised compensation "at the end of the year" by administrators. One faculty member who has been at WUT for over 2 years, said even she had been scammed by the school, but told me that her students helped her to realize what was going on:
"Before, my contract finished in the middle of August. Then last year, they changed my contract to finish by the end of May. So that means they didn't pay me for two and a half months. [They] said 'Okay, we will give you [less] classes for the next contract.' I said, 'No! I finished this contract, I need to get paid first!' So finally they paid me." – Current WUT faculty member
I myself was a victim of contract fraud, when WUT Academic Director, Nisha Ray-Chaudhuri, attempted to force me to teach a "business" course that I was not contracted (let alone qualified) to teach, without compensating me. After Ray-Chaudhuri ignored several of my emails, I was finally able to surprise her outside her office on campus on one of my days off. When I asked for written confirmation that I was qualified to teach the course, along with financial compensation, Ray-Chaudhuri first tried to call my supervisor, Roy Avecilla, out of his classroom to tell me "why I had to teach the course." When I asked why she herself, as the Academic Director, couldn't resolve the situation, she said she would "make some phone calls" and asked me to leave. 30 minutes later, I received an email from her stating that I would no longer be teaching the course. The following week, Avecilla informed me that according to WUT administrators, I would no longer be able to teach at WUT because I "lacked a PhD degree, or at least a Masters degree" in web design (the subject of my elective course), despite WUT having repeatedly begged me to return in 2015 to teach again due to my strong student evaluations, and due to my course in computer applications being the most popular class on campus during 2014.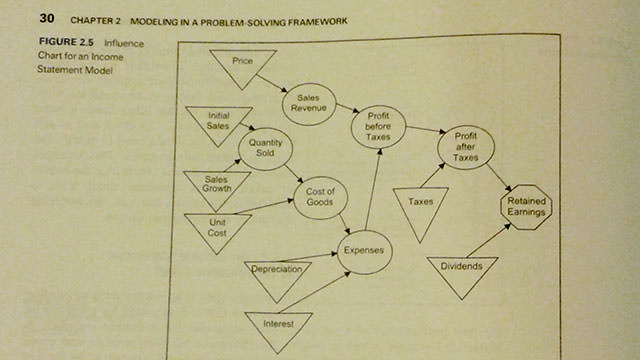 PHOTO: Although my contract at WUT was to teach computer electives part-time (web design/marketing and applications) I suddenly found myself being forced to teach a business theory class, despite my bachelor's degree in social science. I was told to teach from Management Science written by Stephen Powell, a professor at Dartmouth's Tuck School of Business who holds a PhD and Masters from Stanford University.
In fact, despite WUT's very short history, already several former faculty members have filed – and won – lawsuits against WUT for wrongful dismissal, contract fraud, and other breeches of Thai labor laws, winning hundreds of thousands of Thai baht in settlements. It's rather tell-tale that every single faculty member at WUT is placed on temporary 1-year employment contracts – even "full-time" professors who have been teaching for some years – seemingly to encourage a high turnover rate and faculty disconnect. Any faculty member or instructor who doesn't "play along" with the contract fraud, among other campus abuses, seems to be quickly fired, "dismissed", or their contract is simply not renewed at the end of the current year.
Dario Navarro, a recent hire at the WUT campus with an impressive list of credentials from Yale, Princeton, and Northwestern Universities in the United States, is perhaps the best recent example of the bizarre, criminal treatment of faculty. His complete story – detailing how he was continually harassed and threatened by the "Indians" at WUT after making inquiries into the campus "audit" process with WUSTL's administration – can be found in the documents linked above, but here is a short excerpt:
"Earlier today I learned that WUT administrators have made yet another in a long series of illegal, retaliatory and coercive decisions by instructing the WUT attorney to inform me that my salary at WUT for October 2014 would be withheld until I submitted my grades and agreed to WUT settlement terms. The withholding of my salary in an illegal coercive attempt to obtain my consent to a settlement offer violates Section 70 of the Thai Labor Protection Act of 1998. The illegal coercive withholding of my salary is just the latest demonstration of the lack of good faith and abusive misconduct of WUT officials." — Dario Navarro, former WUT professor
Of course, this may not be entirely surprising to those familiar with Webster University's recent reputation in the United States, as WUSTL fired their Vice President of Finance of more than 12 years, David Garafola, in 2011, after he filed complaints regarding unethical recruiting practices. Garafola later sued Webster in court and won a large settlement. In an interview with Columbia University, Garafola later explained:
"My philosophy is that you can't be a successful business officer and not be transparent," Garafola said. "There are just way too many constituencies. You have to have openness and a transparency that's there if you're going to be successful." — David Garafola, fired from WUSTL
(There is also the 2011 case of professor Tracey McCarthy, an African-American female, who alleged discrimination and sexual harassment. Several other African-American students have also alleged an extremely racist environment at WUSTL.)
6) Despite claiming to be an "American university in Thailand" there are currently no Americans within the WUT administration, no apparent oversight of WUT course curricula, and the WUT faculty is increasingly made up of Filipinos and Indians (mostly friends of Thakur), among other non-native English speakers (which isn't necessary a bad thing, but surely isn't an "American" thing). When I contacted the Higher Learning Commission, who is responsible for Webster's (American) regional accreditation by way of North Central Association Of Colleges And Schools and who allegedly "accredits" all world-wide campuses of Webster, one John Hausaman informed me that:
"We accredit the institution as a whole, which encompasses all locations of the institution. All locations of an institution can be included in the evaluation process for accreditation. I do not have specific information available about that particular campus' last visit." — HLC
When I asked him if "any" audit or campus visit had ever taken place in the history of WUT, or if anyone at the HLC could verify such, he refused to reply further. However, after a week of badgering Hausaman, and 4-5 email inquiries later, I finally confirmed (vaguely) that the WUT campus has no audit/accreditation records on file:
"Since we evaluate the institution as a whole, the information about the particular location you are seeking is not information we provide according to our policies." — HLC
But how exactly does an accreditation agency "accredit" an institution without ever visiting or auditing its campus? It is widely believed that HLC accreditation standards have been going downhill for years. A public 2010 letter from the U.S. Department of Education lambasted the HLC for deciding to accredit American InterContinental University, a well-known for-profit diploma mill. University of Phoenix, the largest for-profit college in the United States, is now also "accredited" by the HLC just like WUSTL. (And, coincidentally, UOP also helped to create the ACBSP accreditation agency for MBA programs after they and other poor quality schools were rejected for AACSB accreditation. Case in point, the only MBA accreditation that all Webster campuses world-wide currently hold is from ACBSP, which many American employers no longer even recognize.)
"The Thailand campus is also lacking in supplies. The last time I attended (2004), class textbooks still took 4 to 6 weeks to arrive, if they arrived at all. While cheap by American standards, the price of textbooks was high. Computer labs were not of very good quality and the internet is slow, although I believe that this has improved somewhat over the last year." — WUT student, 2005
7) Althought WUT claims to be a "private American university", the campus, which is located in a remote part of Cha-Am, is very poorly equipped. For years, students have complained about a lack of basic upkeep of facilities, including classrooms, cafeteria, library, sports areas, and more. For the entire 2014 year that I taught web design and digital marketing at WUT, the internet connection was so poor (and so many computers either missing or broken in our lab) that many of my students opted to bring their laptops to class and pay for a special 3G hotspot signal on their smartphones. Shockingly (or not), it appears these issues have existed at WUT since at least 2004.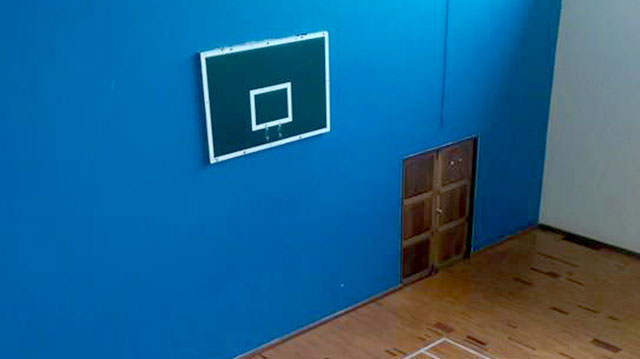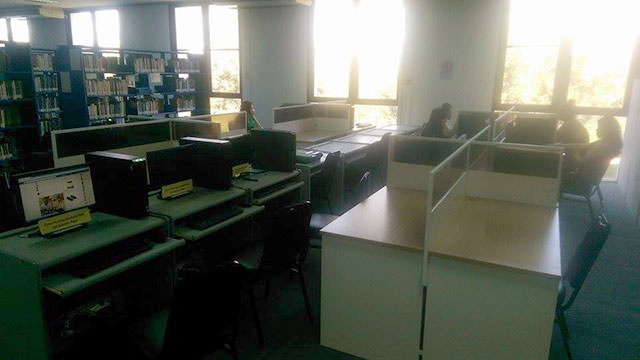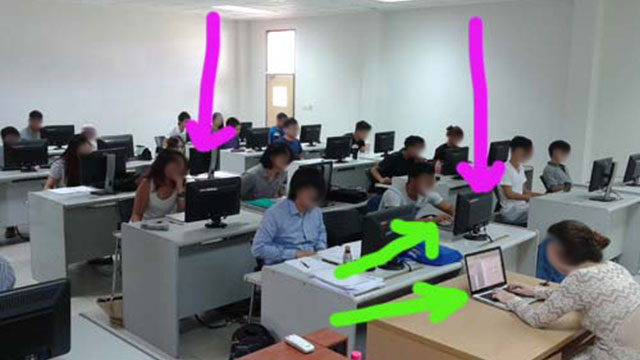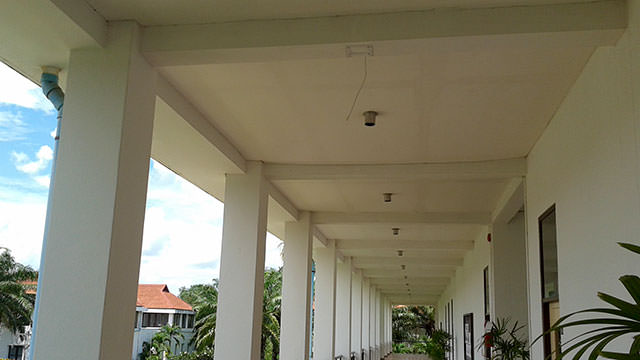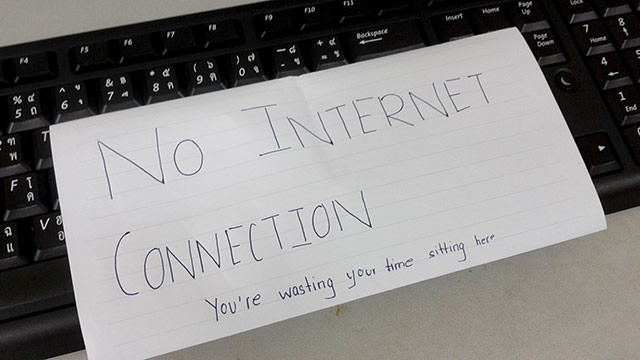 PHOTOS: Despite WUT having received their Cha-Am campus property completely free of charge by convincing a joint-venture foundation of their good intentions, administrators fail to upkeep basic facilities like the library, classroom equipment, etc. Above you can see an ethernet cable dangling from the ceiling outside of my computer lab, where it remained until the end of 2014, failing to provide a proper WiFi internet connection to classrooms. During class, my students were forced to share 2-3 to a computer/desk, and also had to purchase special 3G hotspot signals to use with their personal laptop computers. Despite expensive "General Fees" charged to WUT students, somehow there was no budget for a $20 WiFi router, resulting in one anonymous student venting frustration by attaching a "No Internet Connection… you're wasting your time sitting here" warning to one of the computers in our lab.
According to Human Resources staff, the only reason that WUT holds on to the Cha-Am campus is because according to Thai law, a private university must have at least 100 rai (acres) of land in order to operate (even though WUSTL's true desire is to expand operations in Bangkok, where they don't own any property whatsoever; during 2014, no less than 3 times did rumors spring up that the Cha-Am campus was being shut down). This claim echos statements made by Nancy J. Hellerud, who claimed during the "Campus Review" meeting that WUSTL is focused on growing profits in "metropolitan" areas, and that the Cha-Am location is "not profitable."
Such claims are a bit hard to believe, though, seeing as how WUT managed to obtain their current Cha-Am campus completely free of charge as a generous donation from the Srikraivin-Bonython Foundation (a join venture of two families and University of Maryland via Raimon Land PCL), with campus buildings included, by convincing the foundation of their good intentions. Even according to Rector Thakur himself – during a July 2014 faculty meeting – the foundation is not very happy with the direction that WUT has been headed in recent years (they also reserve their right to withdraw use of the land if WUT does not abide by its contractual obligations).
8) After spamming and vandalizing Wikipedia for nearly 7 years, the WebsterThailand handle (managed by WUT marketing staff) was finally banned in February 2015. WUT continues to censor and vandalize Wikipedia to this day, deleting Ratish Thakur's name and censoring key facts in regard to the WUT campus, in an apparent effort to hide from ongoing allegations that WUT has become an "Indian-Pinoy" college, leading Wikipedia to temporarily lock down the article. St. Louis marketing staff also got involved using new usernames, and were also temporarily banned from Wikipedia, but not before making the following bizarre and rather self-deprecating statements:
Please note that one of the incorrect pieces put on the page is that the University is "Indian managed." Ratish Thakur is Indian, but the University is managed by an American non-profit and has numerous Americans, Europeans and Asians on staff. To specifically change this to "Indian managed" strikes me as somewhat racist. Inkyhack
Webster University Thailand is not a stand-alone University, but is a campus of Webster University based in the United States. As a result, it would not have an endowment by itself, nor should it even be called a "university" but rather a "campus of a university." Inkyhack
Believe it or not, WUSTL marketing staff spent several days browsing CollegeTimes as well, after noticing how high our student reviews of WUT ranked on Google, and decided to try and spam Wikipedia by slandering my web hosting company, Little Bizzy (which was immediately deleted… but not before I captured it).
9) In December 2014, the entire WUT student council officially resigned in protest over the ongoing abuse and disrespect they felt they were suffering at the hands of WUT, writing a scathing resignation letter to administrators. Immediately after the announcement, WUT administrators wasted no time in tearing down student activity boards that the council had assisted with, according to student witnesses.
10) The Webster Journal, a student-lead campus publication at WUSTL, has been mysteriously deleting several stories in recent years that cast the WUT campus in a seemingly negative light. Here are a few of the stories I was able to recover:
Webster : St. Louis Completely Indifferent?
Any one of the laundry list of grievances mentioned above should be nothing short of abhorrent to a self-respecting "university" system – not to mention, any human being with even a basic sense of morality. How then, in a sane world, does Webster University not only accept the blatant fraud, corruption, and violent threats being carried out overseas, but even seemingly encourage it? One former WUT professor, Charles Brumfield, theorizes that blind ambition is to blame:
"They want the prestige of being called an international university with campuses on 4 continents. That's understandable. But the problem with that is, when your international program is a sham, it becomes the laughing stock of the international academic community. An international university with campuses around the world is very prestigious if you're offering quality programs like the University of Maryland does. If you're running a shoddy program, all respect goes down the drain. All your efforts are for naught… It's bizarre to the extent of being almost insane, as far as WUT is concerned. If you run your program based on fear, intimidation, deception, and fraud, how can your program be taken seriously?" — Charles Brumfield, former WUT professor
With the internet having introduced a new wave of consumer transparency (at least sometimes), it is impressive that phenomenons like WUT can survive so long without being crucified by online feedback and blogs. But that's just the thing: arguably, WUT is a scam that's been totally perfected for the 21st century. The campus is in Thailand, a country known for its sweet (innocent?) people and rife with political corruption opportunities; its student recruits are from developing Asian countries and have little cultural predisposition to things like "legal rights" or "freedom of speech"; and its administrators are masters of illusion, intimidation, and double speak.
Unfortunately, Mr. Thakur, you made one key mistake: trying to scam Americans.
To entertain for even a second the possibility that St. Louis is not fully aware of the fraud, corruption, and disgust that engulfs the WUT campus is impossible. From years of online student blogs, to internal and external surveys and QA audits (even after being doctored), to interviews in Webster's own campus newspaper, to the dozens upon dozens of private emails and letters that have been sent, WUSTL is clearly aware to the point of exhaustion that WUT is a corrupt, fraudulent, diploma mill providing absolutely no value to the residents of Thailand and Southeast Asia.
VIDEO: WUT Rector Ratish Thakur appears on a television news show in India, an unusual event for a director whose campus is thousands of kilometers away in Thailand. The majority of WUT administrators are now Indian nationals, as the campus continues its aggressive recruiting in India and Nepal in recent years after interest declined drastically among Chinese, Vietnamese, and other Southeast Asian students.
With recent explosive stories involving embezzlement at a major Thai university resulting in the arrest and indictment of the university's rector, is it time to expect a new era of accountability in Thailand? As WUT announces new plans for recruiting Indian students (for the third time this decade), it seems the question remains: can a "university" that hides its own administrators from their website and uses testimonials written by their own marketing employees… ever really be trusted?
Comments? Leave your intelligent feedback down below or consider following CollegeTimes on Facebook or Twitter to stay updated or to get in touch!
Share This Story: